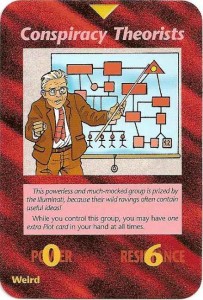 You know you've hit it being online when you're thought to be part of some big conspiracy.  I've always wondered about conspiracy theorists.  Why do they feel the need to concoct some big, elaborate theory or have some big shadow corporation controlling everything?  There are people who believe NASA's trips to the moon were hoaxes (Mythbusters disproved their theories).  And there are people who believe the US government was behind the 911 attacks (yeah, like our government could co-ordinate something so well planned and keep it a secret.)   And now, manga bloggers are in cahoots with publishers to bring down the scanalation community.
At least, that's according one Livejournal blog quoted by Melinda Beasi of the Manga Bookshelf on Twitter.  Melinda quotes:
Here's the quote from LJ: "Scanlations are a hot button topic for licensors …  So they are resorting to a blog/twitter campaign to educate and persuade – and occasionally denigrate. "
Apparently, if you are a reviewer, get comp copies from publishers and don't like scanalations, you are apart of a conspiracy to educate and persuade your readers!  And occasionally denigrate trolls.  That's right, by creating a blog, spending time building it up with good content that people want to read and forming a relationship with publishers to keep that good content, and expressing your opinion about an issue that's in the gray at best, you are a part of the problem.
Here's what I don't get about conspiracies.  Why is it necessary to cook up some elaborate theory when the straight, simple answer works best?  Why would a blogger like Melinda change her mind about scans?  Is it because she prefers to support the manga industry?  Or is it because she's been enlisted by a consortium of publishers and is being paid in free manga to speak out again scanalations?  Which is the more plausible explanation?
I'm too much of a rationalist to believe in these conspiracies.  Occam's razor says it all where the simplest explanation that fits all the data tends to be the best.  Isn't life too complicated already to be making up more that just makes it worse?  I mean really…
But, just in case there is a consortium of manga publishers giving out free manga to speak out against scanalations, you can contact me at xanadu at jadedragononline dot com.  FNORD.