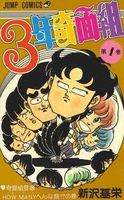 With a long list of wish lists and license requests, and not too good a prospect on getting a lot of those titles in English for whatever reason (too long, too old, too niche, etc), it makes a manga fan seriously consider learning to read Japanese.  Why go through a middleman when you can go straight to the source?  And Japanese tankoban are cheaper, even with the exchange rate, to buy.  But learning a new language can be intimidating, especially when the letters that look nothing like you're used to.  Fortunately the internet is filled with resources to help you buy and read your Japanese manga.
One really good resource is Rainbow Hill Language Lab which features entries about Japanese language and culture.  Recently the blog has been featuring several entries about reading manga as an aid to learning Japanese.  One such entry was a list of tools to help you start reading manga.  This list featured both resources that could be found online as well as books and study aids, all with links. He gives resources to the basics of the alphabet, basic grammar and vocabulary and kanji.
If you're serious about your manga, and don't want to wait for a license that might never come, then learning to read Japanese is the way to go.  And if you don't have a lot of time to take a class, this is a good way to start.  I know I'm sorely tempted to pull out the Highschool Kimengumi manga we have and try this out!