Yokai…Japanese spirits.  Most people fear them, and a few people even hunt them, thinking they are horrible monsters to be destroyed at all costs.  But young Hamachi wants to be friends with them!  He sees them as mischievous creatures that could co-exist peacefully with humans if only given a chance.  When his grandmother dies under mysterious circumstances, Hamachi journeys into the Yokai realm.  Along the way, he encounters an ogre who punishes truant children, and angry water spirit, and a talking lantern.  Will Hamachi be able to find his grandmother's killer, or will he be lost forever in another world?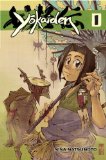 Yokaiden Volume 1

By Nina Matsumoto
Publisher: Del Rey Manga
Age Rating: 13+
Genre: Supernatural/Humor
Price: $10.95
Rating:





The plot of Yokaiden sounds very generic.  Orphaned hero goes off to another realm filled with monsters to avenge his grandmother's death.  But Yokaiden turns out to be much more than it's basic plot.  It's a showcase for many of the strange and sometimes playful, sometimes dangerous creatures that make up Japanese folklore.  The interplay with these beings often overshadows the plot, and its clueless main character.
Hamachi is your typical happy, often oblivious protagonist.  Despite losing his parents at  young age, and being cared for by his harsh grandmother, he's a good-natured and obedient boy.  He has a bit of a temper, but his anger is very short lived.  He gets angry at a Ronin Samurai who comes to the village to offer his services as a yokai killer, but just as quickly asks for forgiveness.  And I guess it could be determination to find his grandmother's killer that he doesn't really grieve for her death, other than a single outburst.  He really doesn't have much of a personality outside of his yokai obsession.  I didn't find him interesting at all, especially when compared to all the yokai he encounters.
It's in his search to find the kappa he thinks could have killed his grandmother and the yokai realm that we get to see the wide range of yokai.  It's these encounters that make up the high points of this volume.  Right after finding his grandmother dead, Hamachi runs in a Grime Licker and a Bean Washer.  Upon entering the forest where the entrance to the yokai realm is believed to be, he encounters all kinds of smaller yokai, such as the Shin-Rubber which trips people, and the Namahage, an ogre that skins the feet of delinquent children.  Inside, Hamachi first befriends a Tsukumo Gami, in the form of a paper lantern, is chased by a Chimera and meets another Tsukumo Gami, this time, a one-legged, one-eyed paper umbrella that has just come to life, and was once the property of Hamachi's grandfather.  All of these encounters, and the short facts about them at the end of each chapter are what kept me interested in this volume.  Hamachi's quest was just the vehicle to meeting all these interesting creatures.
Yokaiden isn't a serious title.  There are touches of humor all through the volume, usually from Hamachi and his interactions with yokai. The kappa that he rescues at the beginning has some great sarcastic barbs that seem to go right over Hamachi's head.  Many of the yokai he meets and tries to be friends with think he's weird.  Little jokes are thrown in all over, such as Hamachi talking back to the narrator, or King Enma rising up with a portal to hell when Hamachi is looking for the portal to the yokai realm.  The villagers have their laughs too, such as the gossiping women who sound sympathetic to Hamachi's hardships, but really don't care, or the discussion the villagers get into about what kind of irony it is that Hamachi's grandmother was killed by a yokai.
I liked Nina Matsumoto's art.  It uses all the best elements from manga without going overboard.  There aren't any chibis or sweat drops, but there are some starry looks, which aren't so bad.  And the yokai all look great.  With so much variety, Matsumoto does a great job making them look different, not just from each other, but also from what we as westerners expect monsters to look like.
Overall, Yokaiden was a good time killer.  I loved seeing and reading about all the yokai, but the overall story of Hamachi and his quest to avenge his grandmother, not so much.  I didn't really like the grandmother, and didn't feel bad when she had died.  If you like yokai and enjoy a chuckle or two, then Yokaiden is worth the time.  If you're looking for more than a light read, then this title isn't for you.