Yokai are mysterious, troublemaking spirits and demons that have tormented Japan for centuries. Kotoko's grandfather exorcised them for a living, but Kotoko never thought that her family lineage was an asset. Then she meets Kuro, a yokai doctor. Yokai have doctors? Now Kotoko is learning firsthand that healing the yokai is a lot more challenging than getting rid of them!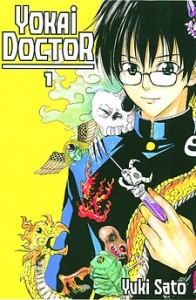 By Yuki Sato
Publisher: Del Rey Manga
Age Rating: Older Teen
Genre: Comedy/Horror
Price: $10.99 OOP
Rating:





When I first ordered Yokai Doctor back in 2009, I was hoping for a more serious look at yokai. So imagine my disappointment when I read it and found out it featured a perverted protagonist and fan service galore. I was ready to pan it back then. With three years to get over my expectations, I find the title isn't quite so bad, but the pandering is still annoying.
The protagonists of this title are Kotoko, the granddaughter of a powerful and well-known exorcist who inherited some of his powers, and Kuro, a yokai doctor. The introduction to these characters is handled in an unusual way. The first chapter is told twice, once from Kotoko's perspective and once from Kuro's perspective. While this novel concept might have seemed like a good idea at the time, it really failed in execution. Kuro comes off as really shallow in the first chapter, and scenes are held back from one chapter to make a bigger impact in the other. Sato would have made a much better impression had he just written the two as one chapter, and allowed the reader to see both characters perspective at once.
Of the two characters Kotoko is the more interesting, or at least the more developed. As would be expected of someone who can see spirits, she was teased and mocked when she was young. But now in high school, she is more popular because of her ability, causing her to feel the need to live up to her classmates expectations. She sees a kindred spirit in Kuro, and reaches out to him as a friend. She has the courage to stand up to yokai despite not having any way of defending herself, but also the compassion to see they aren't all bad. By the end of the volume, I had warmed up to her.
Kuro, on the other hand, needs more work. He is a yokai, and while it might seem his pervy ways are just his attempts to interpret human culture, such as the bowing incident, his open confession for his love of "boobies" doesn't make him any points with me. Neither did the wearing of underwear on his head. He is fascinated by humans, despite the fact it was a human that killed his mother. Like Kotoko has started to learn, he knows there are good sides to humans as well as bad, and doesn't paint them all with a broad brush. He has potential, if the perviness can be toned down. Not that I'm holding my breath though.
I really enjoyed the stories about the yokai. The tsuchikorobi was touching and the baby oni was cute. They showed how easy it was for the yokai to be misunderstood because of their appearance or nature. It just took a little explaining from Kuro, and maybe some action from the yokai, for Kotoko to learn the nature of their heats. Now, I know not all yokai are going to be like that. But I like that the series starts off with some silliness. I loved the scenes where Kotoko would throw some of the smaller yokai at Kuro's head when he was being dense or pervy. Add to that the touching moments and it starts to become apparent that this title isn't all about T & A.
I was harsh on Yokai Doctor when I first read it, and didn't get anymore volumes. Now, I regret that. I would really love to read more about Kotoko and Kuro, and the yokai they will encounter and try to heal. Unfortunately, being a Del Rey title, that won't be easy, or even a series that will ever be finished, since they are no more. All I can hope for, is that Jmanga.com, who has already picked up several Del Rey titles to publish and complete online, will pick up this one as well. It has a lot more to offer than some fan service, and though I was slow to pick up on it, I'm now glad I did.