Cyan is a young Abyssidian cat who is abandoned by his family when becomes sick and has to go to the hospital. Left in the basement of the family's apartment building, Nyan-Nyans Mansion, he soon meets a gang of stray cats know as the Free Collars, who have made their base there. They are fighting to protect Nyan-Man from being taken over by another gang of strays led by a Siamese cat called Siam. In order to protect his home and keep waiting for the promised return of his master, Cyan joins the Free Collars to fight for their "kingdom."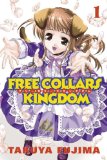 By Takuya Fujima
Publisher: Del Rey Manga
Age Rating: Older Teen
Genre: Fantasy, Comedy
Price: $10.95
Rating:





I must be getting cynical in my old age. When I first read Free Collars Kingdom 5 years ago, I liked it, even if I thought the fanservice was a little over the top. This second time around, I didn't enjoy it as much, and as it got closer to the end, I was more annoyed than amused. While I love cats, I don't care so much for cat boys and girls, and this title seems to be more otaku that look like cats than cats who are otaku.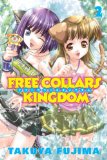 I was looking forward to reading a fun title about otaku cats battling to protect their home from the evil otaku cats who want to take over the world. The protagonist, Cyan, wants to become like the legendary cat Wild Cat, who once ruled over all cats in the area from the place where Nyan-Man now stands, so he can protect his home while he waits for his master's return. That's not what I got from Free Collars Kingdom. The otaku part was there at the beginning, with battles being interrupted by broken limited edition statues, dressing like, and using moves from, video games, and fighting over manga. The otakuness wouldn't be complete without some cosplay, which this title has plenty of. This element was cute and sometimes funny, but it wasn't enough to carry the title for me.
The same goes for the shonen elements. There were plenty of battles with Siam's underlings, who always had to lose to the Free Collars. Cyan, being young and inexperienced, had to win to show his hidden strength and that it wasn't just pure luck. He spends a lot of time talking about how he wants to be as strong as Wild Cat, but he never really trains to start reaching that goal. It's all talk and gets dangled out as a hook that there may be more to come, but it never materializes.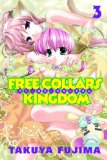 Think part of my problem with this title is that is too much going on. It feels like it doesn't know what it wants to be. It has both comedy and shonen elements, but at the same time, it has some serious themes about the way cats are sometimes treated, and mistreated, by humans. One chapter can be light and funny, and then the next throws Cyan into conflict over his continued dedication to his old master. It was really hard to get past these two conflicting themes, which is probably why I found it so annoying. It also spend way too much time showing the characters as cat boys and girls. Fujima draws some really cute cats, especially Cyan. And if you're not familiar with all the breeds, such as Korat, naming their breed and never showing them as such loses the benefit of using cats in the first place.
Free Collars Kingdom is a title I wanted to love, but in the end only found mildly funny with the otaku elements, and completely unsatisfying with other story elements that are brought up but never explored. Because of this, the ending, while making sense, wasn't satisfying either. I can't recommend this title for cat lovers, but fans of otaku culture, cat boys and girls, or moe characters may find something of worth from it.