Now that Chi lives in a pet-friendly apartment, she is free to go out and explore the world past the sliding glass door. In addition to continuing to find trouble at home, Chi goes out and explores the area around her new home. She meets old friends and makes new ones, but will she meet her Mama?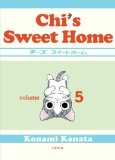 By Konami Kanata
Publisher: Vertical, Inc.
Age Rating: All Ages
Genre: Pet
Price: $13.95
Rating:





Once again, Chi's Sweet Home offers up stories that are light and bring a smile to your face. But hidden between the fluffy stories are some more serious issues about growing up and what having a home really means, but Kanata's soft touch keeps them from becoming overbearing.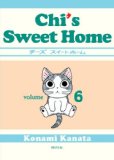 Chi's kitten adventures continue in these new volumes. She finds lots of trouble as she gets used to the new apartment. There are stairs to climb, plants to eat, tape to battle with, pet doors to learn how to use, and cell phones to pounce. While there are still plenty of adventures at home, Chi has a whole new world outside to explore as well. Not having to fear the no-pets-allowed-landlady, Chi is free to go outside whenever the door is opened for her. And she takes every opportunity to do so, getting lost a few times along the way, but eventually learns her way from her home to the park, where families and local animals gather.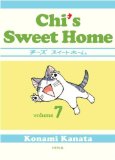 These new adventures expand the cast of characters as well. Blackie returns as a local neighbor, giving Chi a hand when she needs it. One of the new additions is Auntie Calico, and older cat that lives between Chi's and Blackie's house. She knows Chi's mother and tries to get Chi to go home, but Chi's kitten mind has trouble comprehending her. The biggest new addition is Cocchi, a black and white kitten who's about chi's age, but has had to go down a very different path in life. While Chi was found by the Yamadas and given a home, Cocchi has had to live as a stray, living in the cardboard box he was left in, and patrolling about for food.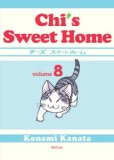 While there have been heartstring-pulling moments before in this series, especially the moments when Chi seems to almost remember her mother, Cocchi's story doesn't just pull, it yanks! There are several nearly heartbreaking moments as Chi gets to know Cocchi better. At first, Cocchi tries to be standoff-ish and tough, but he soon falls for Chi's playfulness. When they fall asleep together in the box, Cocchi has a brief memory of sleeping with his brothers and sisters. And then when Chi mentions going "home," Cocchi doesn't seem to know what that means. That scene made me so sad! I so wanted Chi to have Cocchi come home with her and join her with the Yamadas!
Chi's Sweet Home continues to show the cute and fun side of having a kitten, but this is balanced with the work that goes with it. Chi gets several trips to the vet in these volumes as a result of her explorations. And in its own, gentle way, it shows the darker side to a cat's life, when it doesn't have a home or family to go back to. I really appreciate Kanata's story telling in these moments, because with just a few pictures and almost no words, she can bring home their hardship without resorting to images of starving strays. I continue to highly recommend this manga, especially after a hard day at work, etc. It won't fail to bring a smile to your face.