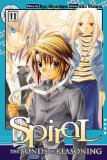 I had finished reading Spiral: The Bonds of Reasoning a few weeks ago actually, but I've been distracted by other things lately (Manga Movable Feast, National Pet Month, etc.) But now that those are over with, I can finally sit down and finish this series up. Spiral turned out to be nothing like I had hoped it would be, and the ending just continues that trend. I found the ending disappointing in a lot of ways.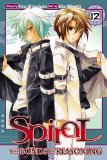 With these last five volumes Spiral: The Bonds of Reasoning is complete. The final arc, Hizumi, acts as a kind of "answers" arc. Who and what the "Blade Children" are is explained, as well as Kiyotama and Ayumu's relationship to them. I didn't like the implications that were made with the explanation, as it went into the realm of the supernatural. This series, as even by its title own admission, is based in reality and reasoning, not appealing to the supernatural to explain itself. The answers that come lately work just fine, and don't need a creator/destroyer god/demon. The author Shirodaira tries to explain why he went down this path, but it's a weak justification.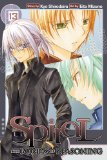 Just as weak is Ayumu's sudden "enlightenment." We are supposed to believe that after 10 volumes, that Ayumu's deductive reasoning kicks into high gear and he is able to figure out EVERYTHING, so nothing is a surprise, and he can't be plunged deeper into despair, as per his brother's plan. I suppose, after all that he's gone through in those 10 volumes, he might be more focused, but it got real boring after a while, when someone would make some revelation, and Ayumu's reaction is just "I already knew that." It made so much of these last volumes anticlimactic. Much like the final confrontation. It left me thinking not only "That's it?" but also "What just happened?" Ayumu and Kiyotaka obviously understood why their exchange had to end that way. Too bad they couldn't be bothered to share it with the reader.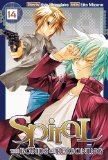 By the end of this series, I really didn't like Kiyotaka, and I'm not sure if I'm supposed to or not. He caused a lot of pain and suffering, but it seems that he also really wanted to help the Blade Children. I still don't know if he was good or bad, or even something in between. But really, it doesn't matter either. No matter what his intentions were, he caused a lot of harm, and then essentially gets off scot-free and return to his life while Ayumu suffers a slow and painful end completely out of his control. Does he get this because he's "God?" I thought it was just wrong, and it made the ending suffer all the more.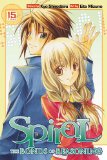 I wanted to like Spiral: The Bonds of Reasoning. The title and the first few volumes were full of promise, but it went off in an entirely different direction than I would have liked. Even the title turned out to be misleading. In his end notes of the last volume Shirodaira couldn't justify "The Bonds of Reasoning" subtitle of the series. That was really disappointing to learn. At least the first part of the title was worked in reasonably well. Spiral might not make a bad thriller, but it should have started out that way, and not set up false expectations. If you go in NOT expecting the murder mystery series it starts out seeming as, you might enjoy it more. In the end, I didn't.
I'm not sure what I'm going to do for next week. I still have series' to read, but I also have still more review copies to get through. I'm thinking of going through more of that pile before returning to the Manga Wrap Up. I was pleasantly surprised by the last title I read, and am actually looking forward to trying out some more.
Sprial: The Bonds of Reasoning Volume 11-15
Free Collars Kindom Volume 1-3
Chi's Sweet Home Volume 5-8
Drops of God Volume 3
Bamboo Blade Volume 8-13
Hana Kimi Omnibus Volume 1
Shonen Jump Alpha Feb 7-Mar 6, 2012