It was a slow news week for manga, as companies and bloggers alike prepared for NYCC/NYAF. But there was still a few items that flew across the internet, including news about Del Rey, Kodansha, license announcements and of course, the first day of NYCC/NYAF.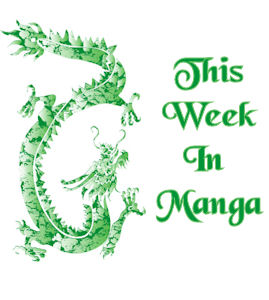 Ask, and Ye Shall Receive or Be Careful What You Wish For

Last week the mangsphere was commenting on how quiet Del Rey has been recently and its lack of solicitations in Diamond's Previews. This week we found out why. Kodansha is taking back all of their licenses from Del Rey, essentially shutting down the manga imprint. Random House, the parent company of Del Rey and Del Rey manga will continue as distributor as well as providing help with editing and production. Dallas Middaugh will continue on the books, so there is a guarantee of quality. What isn't guaranteed is what books will continue as not all titles will survive, or even if anything will come out! I'm sorry, but Kodansha has done NOTHING to inspire any kind of hope in me. It's been two years since they announced their Kodansha Comics imprint, and what have we gotten out of it?  Ghost in the Shell and Akira volumes flipped and with translation at least 5 years old, and they were late at that!. This isn't what fans were expecting from one of the big publishers in Japan. I'm gonna take the "I'll believe it when I see it" stance with Kodansha. And Fairy Tail better be one of the continuing titles!
The mangasphere had plenty to say about this too, as bloggers took up keyboards and give their own reactions. I'm not the only one not bubbling with enthusiasm for this turn of events. What's really disappointing though, is that Kodansha cancelled their panel at NYCC/NYAF after making the announcement. Are they afraid of the mangasphere? Why won't they communicate with the press and fans? We're the ones who will make or break them. Just a little information, a working website besides a press releases, ANYTHING at this point would be nice.
Strawberry Vampires
Seven Seas Entertainment confirmed their license of a spin-off title from Dance in the Vampire Bund, Dive in the Vampire Bund, about a tourist couple who visit the Bund and are turned into vampires. They seek Tempes, the ruler of the Bund to try to get turned in the 48 hour limit. It is planned for an April 2011 release. Also announce by 7Seas was an omnibus of the Strawberry Panic! light novel series. The omnibus will include the unreleased 3 volume to complete the series. No date was announced for it, though an omnibus of the manga series is scheduled for release this month.
Comic-Con East
ICv2 Comics and Digital Conference
The last of the big cons started on Friday. The New York Comic Con teamed up with the New York Anime Fest this year to present one big con, perhaps hoping to rival San Diego's Comic Con. The day before NYCC/NYAF, ICv2, a provider of news and information about pop culture for retailers, held a conference on digital comics. This was dominated by comics, with no one speaking about manga, as its digital future seems dependent on the Japanese publishers. But the consensus seemed to be that the future of comics is in digital, as long as they can keep from pissing off the direct market. Manga doesn't have this problem, as book stores are their market, and most of the stores are already pushing for digital distribution.
The troubling news for manga came from a look at sales for the first half of the year. They were down by 9%. If the trend continues, manga sales will be down by 20% for 2010 and down 50% since 2007. So, the test as to whether shutting down Onemanga and Mangafox will really affect sales should start to show up in the last of the year.
Dark Horse Comics
It seems the only manga related panel on Friday was from Dark Horse. They announced 3 licenses from established creators they already have a relationship with. Bloodline Battlefront is from Yasuhiro Nightow, creator of Trigun, Drifters is by Kouta Hirano, creator of Hellsing, and Yoshitaka Amano's second book in this Shinjuku series, Shinjuku Azul. Both Bloodline Battlefront and Drifters only have on volume out so far in Japan, and aren't scheduled for release until 2011 here. I'm happy to hear about the Hirano license. I loved Hellsing, and Drifters premise really sounds interesting. What I really would have liked to have seen was the Hellsing spin-off title, Hellsing: Dawn, licensed. A young Walter and Alucard as a little girl fighting Nazis during WWII. How can that not be awesome?! It's a perfect 1 volume cap to Hellsing, which just ended this year. Well, I'll just have to settle for Drifters for now.
Also confirmed by Michael Gombos, the director of Asian licensing for Dark Horse, was that another company has rescued Tenjo Tenge from CMX. At the Dark Horse panel he said they had tried to get the title, but that another company had beaten them to it. Ed Chavez of Vertical had said as much during his call for license suggestions on Twitter a few months ago. So, who could that be? Del Rey is no more. Yen Press has denied they will be doing any rescuing. Tokyopop could be in the running. They had previously published Ikkitousen (aka Battle Vixens), which in the same vein as TenTen, but my bet is on Viz. It doesn't seem like a title Viz would publish, and I don't think they would do an uncensored release, but it's a Shueisha title and could be fit in the Shonen Jump Advanced line. But we won't know anything at this show, as Viz cancelled its panel. So watch those Amazon/Simon and Schuster solicitations.
NYT Best Seller List
It's another eclectic week on the list this week. The apocalypse is averted as Twilight returns to the hardback list at #7. Over on the manga list, Hetalia: Axis Powers vol 1 holds on to #1 for second week while a new title, Dance in the Vampire Bund vol 8 takes over the #2 spot. Berserk vol 34 is also a newcomer at #3, as is Fairy Tail vol 12 at #4 is. Last week's #2, Maximum Ride vol 3 falls back to #5 while 4th debut title The Dark Hunters vol 3 takes over #6. Maid-Sama vol 6 sweeps in at #7 while Bleach vol 32 falls 5 spots to #8. Deadman Wonderland appears at #9 along with World of Warcraft: Shaman at #10.
This is quite an unusual week,with so many new titles appearing. only two titles are hold-overs from last week, Maximum Ride and Bleach. Tokyopop holds the lion share of titles, with a whopping 5/10, including the #1 spot. It's nice to see Seven Seas make an appearance as well as Dark Horse, though we've seen them more with the last volume of Hellsing having been on the list for several weeks. Another somewhat surprising appearance is by The Dark Hunters, though since it's based on a popular novel series, it shouldn't be too surprising. We have to see how long some of these titles last, with a Viz wave hitting this week, including a new Naruto. Can the Axis Powers hold back the orange-clad ninja?
Manga For Your Ears
Manga Out Loud
Sci-Guys
Spiraken Manga Review
This Week At Manga Village