It's been a while since I updated my post on manga for Halloween. The titles I choose to put on this list don't just have death, vampires, horror, or supernatural elements. I try to choose titles that have a creepy atmosphere to them as well. Something that can send a chill up your spine, and not just gross you out.
Going in order of publishers again, let's start with Dark Horse, who still has the most titles to fit this genre.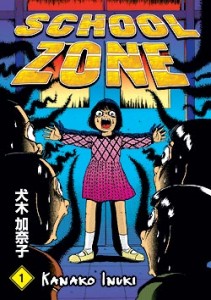 School Zone – This is a 3 volume series that tell stories of ordinary kids who encounter the strange and terrifying in their school. Ghosts, urban legends and superstitions turn out to be horribly real. This series is by Kanako Inuki, who is known as the Queen of Manga Horror. She also created CMX's Presents. You can read a review of volume 1 here, and all three volumes here.
Viz Media has a couple of new titles and both of them come out this month!
Grand Guignol Orchestra – This is a new 5 volume series by Kaori Yuki, creator of The Cain Saga, Godchild and Fairy Cube. Lucille is the head of the travelling Grand Orchesta. For a price he and the orchestra will go to a town and rid them of the Guiynol infected people called puppets who threaten the town. This is done by Kaori Yuki, so you know it's going to be good. Read reviews of this new series here and here.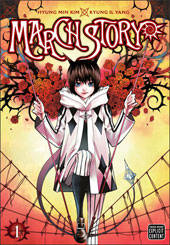 March Story – This title was just announced at Anime Expo this year, and it's scheduled to come out in the next week or two. It created by Korean artists, but the story is published by Shogakukan's Sunday Gene-X (thanks @toukochan!). Set in 18th Century Europe, demons know as the Ill hide in works of art, waiting to attract unsuspecting humans and possess them. Only hunters of the Ciste Vihal can dispel them, and March is one such hunter, tracking down Ills and stopping them before they can possess anyone. This sounds like a really cool series and I can't wait for it to come out. There have been only 2 volumes released so far in Japan, so expect this one to be on a long release schedule.
Tokyopop added one title that I really enjoyed.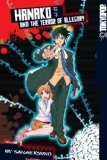 Hanako and the Terror of Allegory – What if urban legends were true? The killer under the bed, the slit-mouthed woman, human-faced fish are all well known urban legends, and they can possess you, making you believe they are real. And if they are real, they can kill you. This title is about Daisuke Asou, who is known as an Allegory Detective. He's the person you to if you are possessed by one of these legends or allegories. The stories are well done, and the urban legends are very creepy. It was a lot of fun to read, but then, I love urban legends. Read other reviews here and here.
Yen Press added a title that has some stories to send chills up your spine.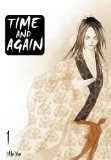 Time and Again – Serialized in Yen Plus, this manhwa follows exorcist Baek-On and his bodyguard Ho-Yeon as they travel the country in search of grudges and ghosts. A lot of the stories deal with karma and re-incarnation, and have very tragic tales behind the hauntings. The art is very well done, and some scenes will make you have second thoughts about reading at night. I've really enjoyed this series so far. There are three volumes out so far, and here are reviews of each. It can also be read online through Yen Plus magazine.
DMP seems to have embraced the horror genre with two titles new this year.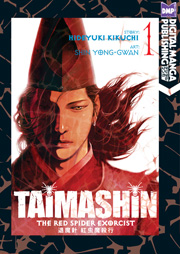 Taimashin: The Read Spider Exorcist – This title is from the creator of Vampire Hunter D, Hideyuki Kikuchi. Akamushi Fujiwara travels between the world of the living and the dead, using his shamanistic spider powers to combat demons from the underworld. As mysterious as he is handsome, if you need Akamushi's help, you are in dire straits indeed. There are two volumes out so far with all of Kikuchi's great action and horror, as well as some sexual innuendo. I've reviewed both volumes here.
Tale of a White Night – This is a one-shot collection of short stories of supernatural and suspense. The tales are more in the vein to make you cautious and constantly looking over your shoulder than outright scare you. It's a good light horror for those that like the more psychological scare than physical gore. Reviews can be found here and here.
Udon has dabbled in manhwa and licensed one Korean horror title.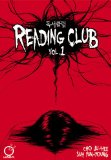 Reading Club – This title is about a girl, Eun-Sae, who agrees to help clean the student-run school library with her crush Kyung-Do. While cleaning they discovers a book with an evil aura, that may be responsible for the death of not just the library's previous advisor, but also another student and Kyung-Do's own father years before. This is a strongly plot driven story with supernatural and horror elements. Sadly though, only one volume has come out so far. You can read reviews of this title here, and here.
Seven Seas Entertainment has really made a name with OEL manga, and with all their different genres has one title that takes on the Cthulu mythos.
Arkham Woods – You can't say horror and not think of H.P. Lovecraft and Cthulu. This one volume title takes you into Lovecraft's world with Kirsti Rivers, an LA girl transplanted to the sleepy New England town of Arkham Woods. While cleaning out the old house her mother's uncle left to them, Kirsti and her friends uwittingly unleash an ancient horror that could destroy the world, if they don't stop it first. You can read this title online as well as in print, and check this review to see how it stands up to a Lovecraft fan.
Did I miss any titles that should be added to these lists? Leave a comment and let me know so I can start to work for next year!