Halloween is a favorite time of the year for kids, not only because they get to dress up in costumes and wear masks and makeup, but also because of their second favorite activity of the year (right behind Christmas), Trick or Treating! So, in anticipation of that big day at the end of the month, here are some manga that might try to trick or treat you.
I mentioned some tricky manga back in my April Fool's themed post, but this time I'm narrowing the focus to titles that are more in the spirit of Halloween.
Kindaichi Case Files – Though sadly out of print, this series of mysteries really work hard to trick the reader and keep them guessing as to whodunnit. Sometimes, it does it in a spooky environment.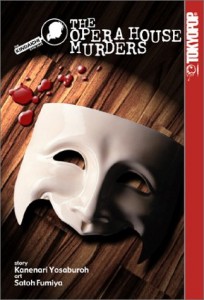 The Opera House Murders – The first volume in the Kindaichi series, it introduces the main characters Hajime Kindaichi, Miyuki, and Dectective Kenmochi. The drama club at Kindaichi's school is going to do the play "Phantom of the Opera", and Kindaichi is dragged into helping by his childhood friend Miyuki. They go to an old opera house to rehearse, where students begin dying, and a figure dressed as the Phantom is seen at the scenes of the crimes. An old opera house that isn't used anymore with a history of death on an island where no help will come anytime soon. It's a classic horror scenario. It's a good mystery too, fueled by love and revenge.
The Legend of Hiren Lake –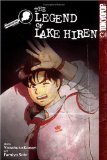 Jason Vorhees makes his manga debut (sort of) in this volume. In another classic horror scenario, a group of vacationers are at a retreat in the woods near a lake with a tragic legend. The first night the radio announces a killer has escaped from prison and is in the area. The only bridge to safety is burned, and people begin dying, where the suspect is wearing a hockey mask. Slasher flick fans should check this one out for a Friday the 13th thrill.
Smoke and Mirrors –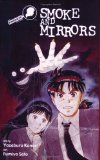 Remember when you just started High School, and the upper class men would tell to avoid a certain room, or the rumor of a place where a student supposedly died? All schools have their rumors like that. Kidaichi's school, Fudo Private Academy has 7! And it's said if you know all 7 mysteries, you will die. When students start dying like the rumored mysteries, Kindaichi steps up to unravel the secret behind the mysteries. This mystery uses urban myths to create a real spooky atmosphere that really hits home and uses tricks to trick the detectives.
Now that you've gotten through the tricks, it's time for some treats!
Mamotte! Lollipop –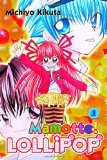 In this series from Del Rey, Nina Yamada accidentally swallows the Crystal Pearl, thinking it was a piece of candy (and not a very good piece for that matter). The Crystal Pearl is the goal that a group of sorcerers my find in order to pass their exam, so now Nina is a target. The first two boys to find her are Zero and Ichii. They decide to protect Nina from the other examinees until they can create a potion to get the Crystal Pearl back. Other than the title and Nina eating candy at the beginning, this title doesn't have much to do with treats, but I wanted to throw it in anyway. It's a romance with a love triangle between Nina, Zero and Ichii with the other examinees throwing out obstacles for the trio.
Kitchen Princess –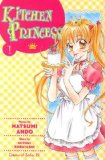 This is another Del Rey title that turned out to be a surprise hit for them. Najika Kazami has a talent for cooking and transers to Seika Academy to become a chef and to find her "flan prince", a boy that saved her from falling into a river and gave her a cup of flan with a silver spoon with the school's emblem on it. Najika is determined to make the perfect dessert, so this title is filled with all kinds of treats, and even includes recipes for the items featured in each volume. It's definitely a treat to enjoy after a hard night of door bell ringing!
Antique Bakery –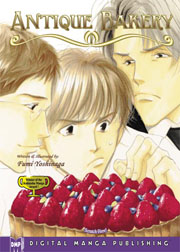 Published by Digital Manga Publishing this title is more for the older teen to adult set. Written by Fumi Yoshinaga, it's about 4 men who work in a bakery called Antique. Keisuke Tachibana is the owner and waiter. He was kidnapped as a child and fed only sweets, and now hates sugary foods. Yusuke Ono is the patisserie who hasn't been able to keep a job because of his "Demonic Gay Charm" that causes gay and straight men to fall for him. Tachibana is unaffected. Eiji Kanda is a former boxer with a sweet tooth who becomes Ono's student and Chikage Kobayakawa, Tachibana's childhood friend, who was sent to watch over Tachibana, but it's Tachibana who ends up watching over him, and giving him a job at the bakery. The story follows the lives of these four men over a period of about three years, showing how they got there. The stories feature lots of different pastries, with the ingredients described in detail. Don't read this title if you're on a diet or haven't eaten yet.
Did I miss any titles with spooky tricks or tasty treats? Leave a comment and let me know about it!