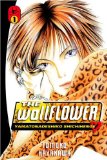 I've had The Wallflower sitting on my bookshelf unread for 3-4 years now. I didn't know anything about the manga until the anime was announced. Having watched and enjoyed the anime, I started to pick up the manga. I mistakenly picked up volume 7 first, and finding the first 6 took a little longer, so I put off reading it for while. Of course, after that, it was easy to continue to put it off. Even after collecting up to volume 15, I continued to put it off. But now, with space becoming a premium, a title that had 15 volumes of that I hadn't even read the first volume of became an easy target for culling. Since I was also preparing for the MMF this week, I only got through the first 5 volumes.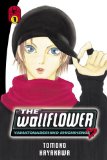 The Wallflower is about 4 incredibly handsome boys, and their quest to live rent free in the mansion of an eccentric woman who is constantly traveling, and always with a new male companion. To reach this goal, all they have to do get their landlady's niece to look an act like a proper lady. This is easier said than done, since said niece, Sunako looks like Sadako from The Ring, and wants to be by herself, in a dark room watching horror movies and talking to her anatomical dolls and skull, all of who she's named. Repulsed at first, the boys learn that Sunako could be beautiful if she just tried. But after an incident with a boy she liked in middle school, Sunako rejects all things beautiful and doesn't believe she can live in the with the other "creatures of light." The manga follows the boys attempts to make Sunako a normal girl, or hide the fact that they have failed so far from the landlady.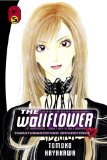 I really didn't care for the first 5 volumes of this series. I think part of it is because the anime was based on them. I'd already seen all of the stories before, so there was nothing new in them. Also, the stories focused mostly on how scary Sunako was, and what new scheme the boys had come up with to try to make her a lady. The anime took a much more comedic tack with this, I was expecting the manga to be like that. I liked volumes 6-10 a lot more. Not only were the stories not familiar, but they also started to focus on more of the characters. It wasn't just "Sunako vs the Creatures of Light." The other characters started to get some actual depth. Kyohei's troubled past is investigated. Oda and Noi's relationship gets to take a step forward. Ranmaru might have found love. Yuki's powers of cuteness are further revealed. The characters started to be more than just cardboard cutouts, and I'm actually interested to read more about them.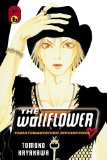 One thing I've enjoyed throughout all 10 volumes is Sunako and Kyohei's relationship. It's the kind of advesarial relationship that I enjoy. Sunako is determined to live in darkness, and Kyohei is determined to live rent free. This put the two constantly at odds, sometimes with them coming to blows. These are some of the scenes I like the most, partly because it's also most often when Sunako will be show as a person and not a chibi. I really got tired of her chibi form in the first 5 chapters, but it wasn't so bad in the next 5. And for all their fighting, they do seem to care for each other. Kyohei is trying to help Sunako through his harsh words. And Sunako won't let anyone else but her harm Kyohei, so that is something, right? I keep rooting for these them to get together. They are like two sides of the same coin. They are yin and yang; darkness and light.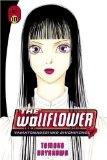 I have mixed feelings about this title now. After the first 5 I was ready to chuck it. After the second 5, now I'm not so sure. The next 5, 11-15 will be the deciding factor I guess. I wish this series was available digitally. It would be a much easier decision then. At 15 volumes, I'm still only half way through the series, and 30 volumes is far too much space for a series I like, but don't love. Kodansha, please put this on Jmanaga, so I at least have some hope of reading it.
I'll finish up The Wallflower this week. I was going to start on Spiral: Bonds of Reasoning after, as it's another 15 volumes, but I need to make a dent in my TBR pile. I'm running out of room on my desk as well. And I think I'll start with some of the omnibuses I have; Black Gate, and the infamous Sasameke volume 2. Really, how bad can it be? I also have to catch up with the April issue of Yen Plus, since May starts Tuesday.
The Wallflower volumes 1-10
Dorohedoro volume 1
Bokurano Ours volume 1
Biomega volume 5