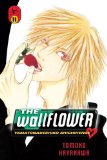 The Wallflower got off to a rough start with me, but by the end of volume 10, I was starting to warm up to the series. I still had 5 volumes left to get through, and these were going to make-or-break the series for me.
I have to admit, this series is really starting to grow on me. The problems I had with the first five volumes are gone. The stories in these volume vary quite a bit, as the boys get their own spotlight instead of focusing solely on Sunako. Takenaga and Noi's relationship takes some baby steps forward. Ranmaru continues to try to come to terms with his new fiancée Tamao. He continues his womanizing, but can be made to feel guilty about it by her honest and naive personality. There is definitely potential for them. Yuki's younger siblings are introduced, and he is shown to be a good older brother. He also gets a boost of confidence, but of course, at the wrong time. Kyohei just keeps being Kyohei, and that's just fine with me. Sunako starts to show some progress as well. She makes some friends at school outside of the boys and Noi. She's able to move on from some of the past that has haunted her, and start to accept herself.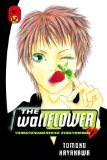 And the person most responsible for this change is Kyohei. Their relationship continues to be more combative, and in my opinion, the most fun. I love watching them battle, and the way they competed in the Sports Day competitions was great. Both continue to refuse to admit they have any interest in each other, but Kyohei continues to be there to help Sunako, either with his actions or blunt words.Sunako shows she cares for Kyohei in her own way, even if she still clings to the thought that she's just biding time until his life is hers. Even though their relationship is progressing at a snail's pace, I'm fine with it. At this point it would seem more out of character to see either of them even thinking any kind of romantic feels for the other. I actually think it would be out of character for them to do so at all, but I do want to seem them together, eventually. That's probably where the series should end. Once you get them together I just don't think there'll be anything more left to say.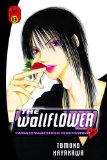 I want to also take a moment to mention the author's comments at the end of the volume. Hayakawa likes to do long notes at the end, mostly about her favorite jpop musician, some of which she based the bishonen boys on. I really didn't care for these, because I'm not that kind of fan girl, and don't really care about reading other people's obsession over celebrities. I usually just scanned this section, until Hayakawa got a kitten. A Scottish Fold, a breed that is popular in Japan for some reason. She added real photos as well as little tidbits about the kitten, names Ten. So, by the time I got to these volumes, I did want to read the notes, but only for those about Ten. Yes, I am destined to be a crazy cat lady.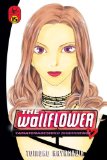 I've definitely turned around from my feelings about The Wallflower at the beginning. It's a series I would like to continue, if I could borrow it or get it digitally. I liked it, but not enough for it to keep taking up space on my bookshelf. So if Kodansha ever releases this title digitally and/or for a non-iOS device, I'll be there. While I'm not interested in keeping it, I would recommend this title to anyone with my more twisted sense of humor and romance. Just push through the first five volumes because it does get better.
I'm moving on to Spiral: Bonds of Reasoning next. I think I will have to go back a volume or two for a refresher, since it seems to have been quite a while. I also want to get some pet manga read and reviewed, and then there's the next MMF, which I plan on participating in. Where I'm going to find the time is anyone guess.
The Wallflower Volume 11-15
Yen Plus April 2012