It's May and that means it's time to show some love to our furry (and sometimes not so furry) friends! It's National Pet Month, where the benefits of pet ownership is promoted and pet adoptions are supported. I wrote about some pet manga available in English before, but now it's time for an update!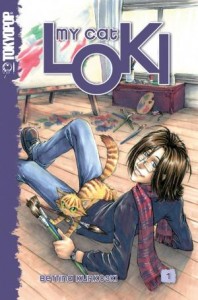 The most common way of getting a pet in manga is through taking in a stray. My Cat Loki was a Tokyopop original title that sadly didn't get to finish its three-volume run due to low sales. It's about a young man, Ameya, who withdraws from those around him after his long-time pet cat dies. But he soon takes in a stray who looks a lot like his first cat, that he names Loki. The two available volumes show Ameya and Loki first coming to terms with each other, and then Ameya coming out his shell and starting to live again. I enjoyed the volumes I read and was disappointed I wouldn't see the third. I thought I would be put off with seeing Loki as a "cat boy", as Ameya would sometimes see him as human, but it actually worked in the context of the story.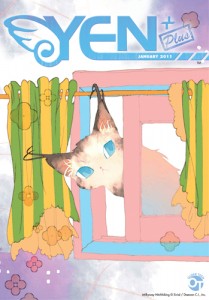 Milkyway Hitchhiking is a Yen Plus exclusive title from Yen Press about a cat with a coat that looks like the Milkyway. She is a special cat that has the ability to grant wishes. She wanders the world interacting with people and cats, both strays and pets, and sometimes even helps them. I've found this series to be hit or miss, and haven't really enjoyed the stories where Milkyway is the observer and not really involved. The art is very pretty though, as being online, it gets to be in color, and is often done with a water-color look.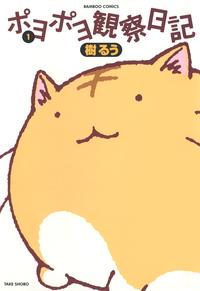 PoyoPoyo Observation Diary is a new digital manga from Jmanga, the Japanese publisher collaboration site. It's a about a round, fat cat, that is found a woman who then brings his home. It's a 4-koma, or comic strip style comic that shows Poyopoyo with his new family. I've bought the first volume, but haven't had a chance to read it yet. But it looks very funny. There is also an anime available on Crunchyroll, which Jmanga links to as well. The anime episodes, much like the Chi's Sweet Home anime are short, only about 3 minutes long, making them a great time filler, or sucker as your schedule will allow.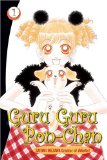 Guru Guru Pon-Chan gives a whole new meaning to the phrase "puppy love." Ponta is the pet labrador retriever dog to the Koizumi family. The grandfather invents a bone that when licked allows the animal the power of human speech. Ponta eats the bone and is turned into a human girl. She falls in love with Mirai, a boy who saves her when she rushes out into traffic while in human form. Ponta enrolls in Mirai's school so she can be near him as well as trying to learn how to be human. Del Rey released this 9 volume series back in 2005, so the series is out of print, but used copies may still be had.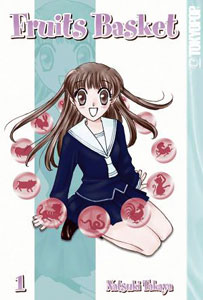 While not specifically a pet manga, Fruits Basket, a book formerly published by Tokyopop, features several animals that are pets. This title is about a girl, Tohru, who gets involved with a family, the Sohmas, that are cursed by the Chinese zodiac. Everytime they are hugged by a member of the opposite sex not afflicted in the same way, they turn into one of the animals of the zodiac. The first three Sohmas that Tohru meets, Yuki, Kyo, and Shigure are the rat, cat and dog of the zodiac story. Momiji the rabbit and Ayame, the snake, also represent common house pets. In a bit of a reversal, Tohru is the stray that is taken in, and it's her unconditional feelings that help to heal the Sohma family and break the curse. This is another series that is out of print, and it would behoove Kodansha to bring it back. Fruits Baskets is just too good of a series to stay out of print.