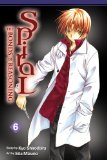 It's been quite the jugglefest for me lately. I've read 5 volumes of Spiral, finished Black Gate (review coming soon), and started The Drops of God volume 3 for the MMF next week all this week. I'm actually shocked I got so much done! I guess not going out to lunch everyday with co-workers helps productivity a little bit. But those days are over for a while, so I should be able to get though more volumes. It would be so much nicer if my work didn't block Jmanga.com so I could read more of my digital manga. The website filter has it marked "sexual." Not what I want to read though!!!!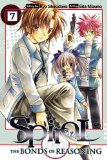 Anyway, on to Spiral: Bonds of Reasoning. I really enjoyed the first five volumes of this series. At the beginning, it seemed like the series would be another "boy detective" series. Narumi had everything; the seemingly impossible cases, the mind to pick up the clues and put them together, and ever the catch phrase when he had solved the crime! "So this is the melody of the truth…" I was really looking forward to more mysteries being solved and more information about the Blade Children being revealed. Instead, volumes 6-10 start what the author calls the "Kanon Hilbert" arc. It's basically about a boy, one of the Blade Children, Kanon Hilbert, coming to Tsukiomi High. He has been trained from a very young age to be a killer. And now, he has come to kill all the Blade Children, most of whom also just happen to go to Tsukiomi High.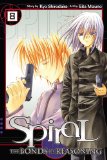 I really didn't enjoy this arc as much as the introductory one. There isn't any mystery going on other than the Blade Children main mystery, but nothing is done with that either. The first three volumes are mostly about Kanon going around trying to kill Eyes and Rio, Kousuke and Ryoko following Kanon, and Ayumu whining about how he's just his older brother's puppet, just like everyone else. Rio, Kousuke, and Ryoko plot ways to try to stop Kanon, and Ayumu has to decide who's side he's going to take. The last two volumes is the extended battle that is all just a set up to get Ayumu to "mature." Kanon believes that Ayumu has to kill him, and initially so do the others. It's up to Ayumu, with prodding from Hiyono to use his reasoning power to find another way.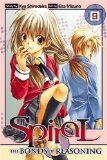 These volumes have a lot of long, drawn out talking scenes punctuated by short fight scenes. Even the final battle has to be narrated by Rio to explain Ayumu's reasoning to the reader. It really pulls the reader out of the action and dulls the whole thing greatly. The author, Shirodaira, admits that there is too much talking going on, but then tries to defend it by saying it's still a mystery since reasoning is being used. But that isn't all that there is to a mystery. It's a sense of not knowing the answer and searching for the clues to find it, and putting the pieces together. Yes, you do need reason to do that, but that can't be relied on exclusively. These five volumes were all one big lead up to Ayumu's solution at the end, but by the time it got there, I really didn't care anymore. The series had nearly lost me, and if I had been reading this as it came out it probably would have. But the end of volume 10 started hinting at giving some answers to who or what the Blade Children are, and for that reason alone, I will continue with the series. I haven't lost my curiosity about the mystery of the Blade Children, but for a while there it sure felt like the author did.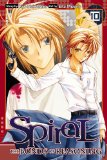 For next week I'll finish up Spiral volumes 11-15, and then I think I'll dig more into my growing TBR pile. I still want to read some pet manga, and Free Collars Kingdom is sitting high on the list since it's only 3 volumes. But I'm also 4 volumes behind on Chi's Sweet Home, and those are quick reads. I guess I've got my lunch time reading set. I still need to finish The Drops of God volume 3 for the next Manga Movable Feast as well. I'm kind of seeing where the excitement for the series is coming from, but my lack of interest in wine is keeping me from reaching that level. I've already read the first volume of Oishinbo, the real focus of the MMF, but since any food manga is welcome, and I had a volume of The Drops of God to available, I decided I had to try it.
Sprial: The Bonds of Reasoning Volume 6-10
Black Gate Volume 3