"I'm going to uncover the mystery of the 'Blade Children'."…World-class detective Kiyotaka Narumi's last words prior to his sudden disappearance continue to haunt his younger brother, Ayumu.  The cheeky 10th-grader becomes equally embroiled in the mystery of the doomed "Blade Children" when he is mistaken for the prime suspect in a murder at his school.  Led by Ayumu's sister-in-law, Kiyotaka's wife and fellow detective, Madoka, the investigation into the murder gives Ayumu a chance to clear his name.  But in doing so, he not only uncovers ties to the Blade Children but also more questions than answers about who and what they are.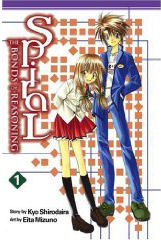 Story by Kyo Shirodaira; Art by Eita Mizuno
Publisher: Yen Press
Genre: Mystery
Rating: Teen
Price: $10.99
Rating: 5 out of 5 stars
Spiral: The Bonds of Reasoning is a title that started out as a novel and was then turned into both a manga and an anime series.  This first volume introduces us to the main characters and the overarching mystery of the "Blade Children", with individual mysteries giving us the pieces to the larger one.
Ayumu Narumi is a 10th grader at a private high school, and brother to Kiyotaka Narumi, a world-class pianist in his teens and a "Great Detective" by his twenties.  Ayumu wants to surpass his brother, and find out what happened to him.  It seems he has a knack for solving mysteries as well, and when he is accused of murder on the anniversary of his brother's disappearance, Ayumu sets out to prove his innocence himself.  But as one crime is solved, it seems to lead to another as the culprit is killed, which reveals clues to another. That murderer is found, and all have a connection to the Blade Children mystery.
Spiral has all the earmarks of a "boy detective" story.  The "boy detective" who possess' extraordinary reasoning powers, the detective on the police force who believes in his powers, the bumbling detective partner who doesn't get it, and the pretty girl sidekick.  Ayumu even has a trademark saying when he has figured out the case; "So this is the melody of the truth…".  But these things don't make this a bad series, just a familiar one.  Ayumu is unlike any of the other boy detectives.  He's more of a loner, obsessed with his brother's mysterious disappearance.  His attitude is more of a devil-may-care, and just sees the mysteries as a chance to find his brother.  His sidekick, Hiyono, is actually helpful to Ayumu, getting him the information he needs to put all the pieces together.  His sister-in-law, Madoka, understands Ayumu, and really sees the sibling resemblance as he puts the pieces together before she does.
This volume is a great introduction to the characters, and all the little clues that are dropped around about the Blade Children really get one wondering about who and what they can be.  The art is well done, with no chibis, and only the occasional funny face, at appropriate times.  The designs are cute without being bishi or annoying.  The way Yen Press does the SFX is different, with a more literal translation of the mood the author wants to get across than just a sound.  It takes a little getting used to, but after while, it just seems natural.  As one of Yen Press' debut titles, this is a great beginning.