One of the regulars at Suguri's pet shop finds out that his precious little French bulldog, Zidane, has a weight problem!  He tried everything from diet food to yoga and even an exercise machine to help the little guy lose that doggy fat!  Could someone else be feeding him, too?!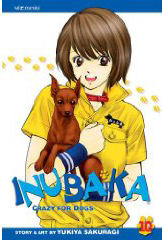 By Yukiya Sakuragi
Publisher: Viz Media
Genre:Animal/Drama
Age Rating: Older Teen
Price: $9.99
Rating:





Dog lovers rejoice!  It's another volume of dogs and their owners doing doggie things.  Then for the second half of the volume, there's a new plot stirring up, that could be the end of Woofles and the gang.
The first half of this volume is all about Hiroshi Akiba, an otaku-goverment worker, and his bulldog Zidane.  Zidane was teased by Chizuru about his weight, so Akiba decided to do something about it.  He buys low-calorie dog food, he stops buying treats and even gets a doggie treadmill!  This story is mildly amusing, though it has all the typical trappings and pitfalls of a diet storyline.
The story of how Lupin, Suguri's mutt, got his name is mildly amusing too.  The source isn't all that surprising, nor why she chose.  This story really just seems to fulfill the title's fanservice quotient.
The rest of the volume introduces a new storyline.  Woofles has been targeted as the best pet store in the area, and the place to top for a new pet shop that is backed by an online retailer.  Not only are they trying to be better than Woofles, but they have their eye on Woofles top employee, Suguri!
This new storyline could be interesting, if it wasn't so obvious where it was going.  Already, the spy that is working at Woofles has shown his "good side", and the whole "steal Suguri from Woofles" just isn't plausible.  Anyone that's read even one volume of this series would know that.  Of course, Lupin catches on to Mikage right from the beginning.  He barks at him, and when he invites Suguri to a cafe for lunch and to try to get her to leave Woofles, Lupin is all over him, interrupting him at every chance.  That scene was also mildly amusing.
Inubaka continues to be a title aimed squarely at the male dog lover.  The fanservice was much more under control in this volume.  It wasn't too prevalent, except for the one story.  And for dog lovers, this continues to be a windfall.  Lots of different dog doing lots of cute doggie things.  As a cat person, I'm still not impressed, but I didn't mind the read either.