Some of you out there may be wondering about my lack of posts lately.  Most of you probably haven't, but anyway…  With the holidays and work, I've been really bogged down and quite frankly stressed, which tends to kill my creative juices.  Distractions by things other than manga can also do it.
What?!  I doing things other than read manga?!!!  Well yes, occasionally.  Right now, I'm listening to audio books, mostly on my commute to work.  Normally that wouldn't impact my reading, but in this case, it has.  Just before Christmas, I got this audio book for a mystery series I like, the Mrs. Murphy Mysteries. Now, Mrs. Murphy isn't who you think she is.  She's not an old lady who likes to stick her nose into murders.  No, she's a tiger cat who likes to stick her nose into murders.  Along with her friend Tee Tucker, a welsh corgi, and her human friend Mary Minor "Harry" Harristeen, they get involved in all kinds of murder mysteries in the small Virginian town of Crozet.  Well, I found Santa Clawed
, a book in the series.  As I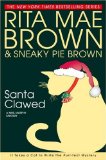 haven't been keeping up with the series because of my manga obsession, I had no idea where in the series it fit.
I started listening to it before Christmas, and all kinds of things were different from what I remember!  Harry, who had divorced her husband Fair was suddenly married to him again!  Pewter, the cat from the grocery store was living with Harry!  All kinds of things had changed!  Looking it up, I found out this was the most recent book in the series, not an older one as I had thought.  Well, this meant I had to do some catching up to find out what happened.  My mother and brother, both who also like the series and audio books, had a lot of the series, so I borrowed the rest from them, since I really enjoyed the readers for the books so far, but, they didn't have books 2-4.  And since the series builds on each previous book, I had to read 2-4 so 5 on would make sense.
So, that 's what I've been doing with every reading moment; reading the novels of 2-4.  I decided to listen to the first book again (borrowed from parents), so I listened to that while getting through books 2-3.  I'm reading 4 and listening to 5 at the same time.  It's making things a little confusing, as I'm at about the same place in each as well, I have to think about it to keep the mysteries straight.  But, once I finish 4, I should be able to get back to manga.
Now, just to relate this to manga, I'd like to make a suggestion to Del Rey.  We've seen how OEL titles based on existing YA series have done exceedingly well for publishers.  Tokyopop/Harper Collins wouldn't keep putting out Warriors books if they didn't.  Well, the Mrs. Murphy Mysteries are published by Random House.  Del Rey doesn't need to look any further than their own catalog to find some good books to make into manga!
The Mrs. Murphy Mysteries would make great manga, I think.  As I said, the stories all build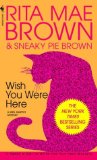 on the previous ones, so we see the characters grow and change, often because of events from previous books.  And Rita Mae Brown, the writer, has created an wonderful and varied cast of characters.  Besides Harry, postmistress of Crozet and small farmer, there is Pharamon "Fair" Harristeen, a horse vet, Susan Tucker, Harry's best friend and confident, Mrs. Miranda Hogendobber, wife of the former postmaster who helps out Harry at the post office, and baker of pastries, Mrs. Marilyn Sanburne, or Mim, Queen of Crozet, a woman of great means and tyrant that lauds it over everyone and her daughter Little Marilyn or Little Mim, a pale shadow of her mother who she resents, Larry Johnson, the old family doctor who gives Harry and Mrs. H their breaks for lunch, and so many more!
And then there are the animals.  In Mrs. Murphy's world, the animals can talk to each other, not to humans.  It's quite entertaining to watch the animals talk amongst themselves about their humans and their problems.  But getting a human to understand them is real trouble, since they often think you want food and not to follow them to a vital clue.  Besides Mrs. Murphy and Tucker, there's Pewter, the fat gray cat that lives in the supermarket.  Simon the opossum lives in Harry's barn and takes with Murphy and Tucker, the barn owl, Flat Face who often ignores them, but will sometimes help, and Harry's horses, Gin, Tomahawk, and Poptart, though they don't talk much.
Everyone knows everyone in Crozet, and the town has quite a history.  There's plenty of drama from gossip as well as the murders.  Every book has more going on than just the mystery with relationships and other gossip topics.  This series is just perfect for a manga series, and can reach more than just one demographic.  Mystery lovers will love the murders with will leave them guess until the end.  There's plenty of drama and romance for women, and animal lovers will love the way the animals act.  You can just imagine your own cat or dog thinking the same thing when they are staring up at you.
So come on Del Rey!  Don't waste your time on kiddy fads like Cartoon Network properties and Marvel Comics that probably cost you lots of money!  You've got a great series right in your own library just aching to be a manga!  It's been going strong since the early 90's, so it already has an established fanbase, and makes the NY Bestsellers with every new volume.  What more can you ask for?  And seeing not just the animals, but the humans as well would be awesome!  They are such great characters and manga is the perfect medium to showcase them.