In this week's news: September's Movable Manga Feast, digital manga vs print, Twitter on AX, Del Rey's future, manhwa, banned books week, New York Times best sellers, podcasts, and the Manga Village roundup.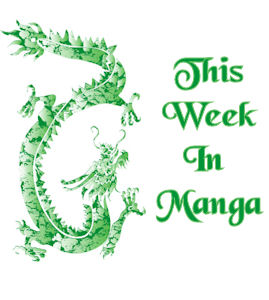 Movable Manga Feast: After School Nightmare
This month's Movable Manga Feast started this month over at Sean Gaffery's blog Suitable For Treatment. The title featured was After School Nightmare, a Go! Comi title that is unfortunately out of print and hard to find. While there were bloggers that participated (me included), participation in general was down overall. As of this writing, there are only 4 volume reviews and  4 essays but no discussions or podcasts as other MMFs have generated. It makes one wonder why? Was it too difficult to get as an older OOP series? Were people too busy  with the start of schools and jobs, etc? Did people change their mind after reading it? It really a shame that there wasn't more participation this time. I was intrigued by the 1 volume I read and would have loved to hear more perspectives on it, especially in podcast form. The past podcast roundtables have been good listens.
Digital Divide
As mentioned in last week's post, Tokyopop released its Hetalia manga in print, through digital publisher Zinio and digital comics publisher Comixology. Deb Aoki of About.com:Manga compared all three versions and gives her impressions of all three platforms. Not surprisingly, of the digital formats, Comixology works better. But that just make sense, since Comixology specializes in comics, of which manga is a form of.  Of her complaints, I completely agree about having a lack of zoom. Yen Press' Yen Plus has limited zoom, and it makes reading more of a hassle sometimes, especially on the 4-koma titles. And working out the left-to-right/right-to-left issues will be a deal breaker for manga on Comixology.  If you have to work to read your manga, then it isn't fun, and you're not going to buy anymore. A fix is supposed to have been implemented by now. If Comixology could get away from the i* platform and to more portable friendly formats, it sounds like a platform with potential.
AX'ed on Twitter
AX: A Collection of Alternative Manga anthology from Top Shelf has been highly anticipated by many in the mangasphere. David Welsh of the Manga Curmudgeon organized a massive Twitter discussion of the huge volume. Starting at the beginning of the book, the participants give their 140 character impression of each title.  The discussion was split over 2 nights and featured some different participants each night. If you want to get an idea of what to expect in this book, this is an excellent resource, though be warned, there may be some spoilers floating around. Also keep in mind that these are Alternative stories, and not the usual manga that comes out every month, so be prepared for some strange and/or disturbing stories/imagery.
Del Rey Debate
Del Rey as a manga publisher has been the subject of debate in the mangasphere for a while now. Their erratic release schedule, and the decision to release omnibuses has a lot of fans wondering what is going on with ths one prolific publisher. The latest round starts at Kuri-ousity where writer Andre Paploo notes the lack of Del Rey manga solicitation in Diamond Previews and on Amazon.ca after November 2010.  Both Johanna Carlton Draper of mangaworthreading and Brigid Alverson of Robot 6 weigh in with their thoughts, both taking a wait-and-see attitude, especially with Del Rey scheduled to have a panel at NYCC. The "no comment" from both the publicist and associate publisher isn't too heartening. But Matt Blind, the master of manga sales at Rocket Bomber, gives his own take based on his own sources, which do show titles solicited beyond November 2010. So, who's right? I'm inclined to agree with Matt's data. Unless something has drastically changed at Del Rey, Dallas Middaugh was last quoted as saying:
…it appear to some that we've drastically reduced our list, but we're still publishing roughly the same number of pages of manga each year.
So they are planning less individual releases, and more omnibuses, which are probably better suited for the bookstore than direct market, hence the lack of solicitations in Previews, but we won't know anything for sure until NYCC.  Hopefully.
Where Has All the Manhwa Gone?
Melinda Beasi of Manga/Manhwa Bookshelf wonders where are all the manhwa releases. There seems to have been a drop manhwa news and releases. Yen Press, which had swallowed up publisher Ice Kunion , Netcomics, Tokyopop, and Udon have either been very quiet with new releases/licenses or have their titles on hiatus. I join Melinda in her lament. I've started to enjoy manhwa. Ice Kinion/Yen Press has some great titles, and Tokyopop and Udon has titles I'd really like to check out, but am hesitant because of their hiatus status. If you've ever had thoughts about manhwa but wasn't sure, go check out Melinda's Manhwa Bookshelf. A lot of my interest and turn around about manhwa is directly responsible because of her site and advocacy.
Why We Can't Let It Happen
This week was also Banned Book Week, an annual event sponsored by the American Library Association, to remind people of the importance of the freedom to read and the first amendment. Erica Friedman of Okazu celebrates the people on the front line, Librarians, by talking about two titles that feature Librarians fight overt censorship and keeping book free for everyone to read. I ask these book banners to stop hiding behind children to propagate their own agenda. But to hear about why this is all so important, listen to an interview with Akira Maruyama, a Japanese expert on manga culture and was an editor for defunct magazine Shoujo Club. He points out that there is a whole period of shoujo mange that may disappear because of a concerted effort to suppress them in the fifties, which included book burnings. Even in this day and age, stories and ideas can still be lost because of small-minded people. We must stay ever vigilant to keep this from happening.
NYT Best Seller List
There are some interesting moves on this week's list. Is it a sign of the apocalypse that Twilight is no longer on the Hardback list? It lasted 28 weeks, but was finally pushed off this week. Over on the manga list, a debut title takes over the #1 spot. Hetalia Axis Powers vol 1 from Tokyopop has had a lot press lately, and it seems to have paid off. Maximum Ride vol 3 keeps a hold of #2 while Bleach vol 32 and Alice in the Country of Hearts vol 4 falls back to #3 and #4 respectively. Naruto vol 48 keeps a hold of #5 as Dogs vol 4 falls two back to #6. Bakuman vol 1 moves back up to #7 and debut title Shakugan no Shana vol 6 arrives at #8. Even though Viz calls this the last volume, it is far from it. It obviously didn't sell as they wanted it to. Black Butler vol 2 returns after a few weeks break to #9 as does Rosario + Vampire: Season II vol 2 to #10. While there are some of the same titles keep showing up, the list lately has been rather eclectic. It's been nice to see some of these different titles get some attention. Sadly, there won't be any Second Opinion comparisons for the next three months, as Matt Blind will be too busy with work. But when he comes back in January, watch for the feature's return.
Manga For Your Ears
ANNCast
Episode 52 – Daniella Orihuela-Gruber and Erica Friedman
This Week at Manga Village
What I'm (Re) Reading