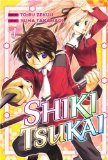 I almost didn't get through my next series this week. I had two things working against me. With the Jiro Taniguchi MMF coming up, I had Samurai Legend to read, and I received The Quest of the Missing Girl, a volume didn't think I would get on time, so I had to read that too. And then I was on vacation with the rest of the family, and we had to find a car to replace our 15-year-old car as well as hit Wondercon on the weekend. It was a busy week! But since we commuted to Wondercon, I had the evenings to read Shiki Tsukai. I've had the first four volumes for a couple of years now, and after reading the first volume, I thought it had potential. After reading all four, I now know I was wrong.
The thing that attracted me to this series was the use of the seasons as an ability and the cards each Shiki Tsukai use. I like game manga, especially those about trading cards, so this series seemed to be right up my alley. I also thought the use of the seasons, birthdays, and birthstones was a unique idea. It really seemed to have a good setup and could be a fun series. Then I read the remaining volumes.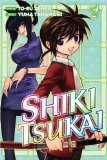 The premise of Shiki Tsukai is that with global warming and all the other things humans are doing to the environment, it's affecting the seasons. Shiki Tsukai are connected to the season and to some level and feel the Earth crying out, so they have divided into two camps. Summer and Autumn want to do something about the human population, namely, decrease it dramatically. They blame all humans for the condition of the Earth, and if it means kills over half the population off, so be it. On the other side is Winter and Spring, who don't believe killing is the answer. Stuck in the middle is Akira Kizuki, who is believed to be the "Shina Bashou," or "The Law of the Universe." Basically, he can control all of the seasons, but he hasn't awakened yet, so it's a race between Summer/Autumn and Spring/Winter to get to the boy first and sway him to their way of thinking.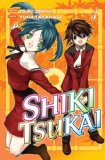 Once I got past the set of the first volume, I found that I really didn't like any of the characters. There was no substance to them. Summer and Autumn was populated with characters that were vicious, loved battle just for its sake, and who blindly obeyed their masters. They were set up to so obviously be the villains it almost hurt. Winter and Spring was filled with very bland characters, none of whom seemed to have any personality. This is especially true of the lead, Akira. He seems happy to be led along on a lease by Koyomi, the first Spring Shiki Tsukai he meets, never really questioning what's happening. So many of the relationships are stereotypical as well. Akira's mother and his teacher Rei know each other and appear to have been rivals for Akira's father's affections. Rei and the Shiki Tsukai of Autumn, Kureha seem to have vendetta against each other, making their fights more personal. And then there's the sadly obvious set up of Akira and his best friend Fumiya to have to be on opposite sides. So much of this series is very tired with nothing interesting to offset the clichés.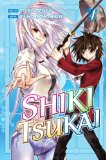 The other thing that really put me off from this series is all the fan service. The women are either impossibly large breasted, or the small, moe-type. The well-endowed women are usually dressed in-modestly, and Akira is constantly put into awkward situations with Koyomi, and beat by his mother for having done nothing wrong. I know this is supposed to be funny, but it never was before, and it isn't going to start now. The art is very much like the characters; nothing new to see here, move along.
There is no way I am inflicting this series on my local library. While where would probably be some boys who would enjoy the fan service, but the rest is just so bad, that I don't think even the fan service could hold their attention. So this series is going up for trade. I really couldn't recommend this title to anyone.
Not sure what I'll be reading next. I'm doing some prose right now (yes, I do read books without pictures), and nothing is really sparking with me. Though, I think I'm leaning toward Antique Gift Shop as my next series.
Samurai Legend
The Quest for the Missing Girl
Shiki Tsukai Volume 1-4
Shonen Jump issue 110