Ordinary high school student Mai Taniyama is drawn into the world of ghosts and spirits when her school hires Kazuya Shibuya of Shibuya Psychic Research to investigate alleged haunting of an old school building. After accidentally breaking a very expensive camera and injuring Shibuya's assistant Linn, Mai becomes his assistant. They are soon joined by a Shinto Miko, a Buddhist monk, a psychic medium and a Catholic priest. The school wants to be very sure there are no spirits to interrupt the buildings demolition.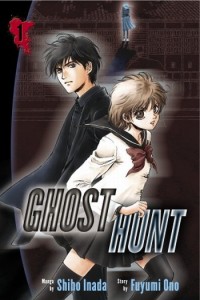 Story by Fuyumi Ono; Adapted by Shiho Inada
Publisher: Del Rey Manga
Age Rating: Teen
Genre: Supernatural/Horror
Price: $10.95
Rating:





Ghost Hunt is based on a series of light novels originally published in the late 80s to mid 90's. It follows the cases of Shibuya Psychic Research as they investigate alleged hauntings and find the cause, whether it is natural or otherwise. Of course, more often than not, the hauntings will be real.
The first volume introduces all the characters that will become the ensemble cast for the rest of the series. The case of the supposedly haunted school building is really secondary to the characters introductions. We first meet Mai, a seemingly normal high school girl who is blackmailed into being Shibuya's assistant. She gets pushed around by him, but she doesn't take it meekly. She happily pushes back. She fairly smart and makes a good, strong female lead. She does find Shibuya handsome, as do all the females in the series, but his less than friendly personality and narcissistic behavior mostly cancels that out. She even gives him the nickname of Naru-chan, which is quickly picked up by the rest of the cast. Despite that, she does seem to develop feelings for him.
Shibuya, the aforementioned Naru-chan, is the president of SPR, Shibuya Psychic Research. He is only 16 years-old, yet is very learned about the supernatural and can read and writing several languages, including English. His personality is rather cold and indifferent, and he seems more concerned about getting the job done than other people's feelings. Though, he does show to be surprisingly compassionate at the resolution of both these first two cases. He tends to look down at people, and has a very high opinion of himself, though he does seem to like Mai, as he asks her to work for him part-time. He is a ghost hunter, using technology to find and confirm spirit activity, though again, he surprises everyone again with another skill.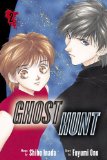 The rest of the cast is rounded out by four exorcists. Ayako Matsuzaki is a self-proclaimed miko with a bit of an attitude. Takigawa Houshou is a monk from Koya Mountain with long hair and pieced ears who is "taking a break". John Brown is a Catholic priest from Australia with a Kansai accent who is also an exorcist, a Masako Hara is a psychic medium who also has her own TV show. They all start out competing with each other, and especially with Shibuya, and egos are checked as they go through the first case. By the second case though, they are working together more as a team. The second case is much more serious, and everyone's skills are needed to keep the ghosts at bay and protect a little girl and her aunt from harm.
The stories are more psychological horror than gore. No one is killed, though characters do get hurt, especially Mai. In both stories, Mai is knocked out and has a dream about the current case and that features a kinder, gentler Naru-chan. This Dream-Naru-chan helps her with these dreams which end up contributing to the case, suggesting there might be more to Mai than we, or even she, knows.
While the stories are fun ghost tales, the real heart of this title is the characters. It's a really good ensemble cast that works well together. There isn't a shirking violet among them, and they are all ready to take up the challenge, whether it's Naru-chan's sharp tongue, or facing a vengeful spirit. Even Mai, without any power or knowledge, is ready to jump into the fray, usually without thinking of the consequences. There is also a sort-of love triangle being set up between her, Naru-chan and Masako. There are hints of feelings between them, but it's keep to the background. It never becomes the focus of the story, which is as it should be.
Ghost Hunt has started out as a good title with strong, entertaining characters, and some eerie ghost stories. While ghosts or spirits aren't always the culprits, there is usually some sort of paranormal explanation for the phenomena they encounter. I definitely recommend this title if you like some mystery, ghost tales, and lots of good character interaction.