Yukari wants nothing more than to make her parents happy by studying hard and getting into a good college. One afternoon, however, she is kidnapped by a group of self-proclaimed fashion mavens calling themselves "Paradise Kiss." Yukari suddenly finds herself in the roller coaster life of the fashion world, guided by George, art-snob extraordinaire. In a glamorous makeover of body, mind and soul, she is turned from a hapless bookworm into her friends' own exclusive clothing model.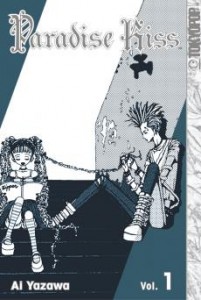 By Ai Yazawa
Publisher: Tokyopop
Age Rating:
Genre: Romance
Price: $9.99 (OOP)
Rating:






Buy This Book
When Paradise Kiss first came out, I passed on it, thinking it wouldn't be a series I would be interested in, and quite frankly, I was turned off by the cover art. This was before I knew how awesome Ai Yazawa and her work was. Paradise Kiss is about a group of fashion design students trying to make their own line with normal exam student Yukari as their model, but this first volume is more about the relationships of this group of new friends than fashion, and as is typical of a Yazawa manga, the relationships are anything but simple.
Yukari Hayasaka is a high school student preparing for exams for college. She walks around with her nose in a book, goes to prep-school, and just generally worries about doing well and getting into a good school, just like everyone else around her. In Yukari's world, your rank in school equals your rank in life. She doesn't have any dreams or ambitions beyond getting into college. Her whole world revolves around this single goal. Until she meets the members of Paradise Kiss.
As one would expect for a group of art-school students, Paradise Kiss is filled with some eccentric characters. Arashi looks and speaks like a British punker, complete with safety-pin piercings and slang. Miwako looks and acts like a little girl, often referring to herself in the third person. Isabelle is a tall, male transvestite who also likes to cook, and takes any opportunity to make rice balls. And then there's George, the leader of Parakiss.
George is a mysterious character. He always has a straight face, making it difficult to tell what he's thinking, or when he's being serious. He's impossible to read or predict. The members of Parakiss are used to him and can just go with it, but Yukari becomes intrigued with George. He starts out playing with her, to get her to come back to the studio and convince her to be their model, but she gets completely caught up in him and his games. Yukari's thoughts become dominated by thoughts of George, but she also wonders if he's just playing with her. In the end, she can't stop herself from falling for him.
Yukari also becomes friends with Miwako, who is a childhood friend with a boy in Yukari's class that she's had a crush with from afar, Tokumori. Without getting into the whole tangled mess of that relationship, it's Yukari and Miwako's friendship that plays a big role in Yukari finally deciding to help them. Through Miwako she has come to understand what Parakiss is trying to do. They have dreams and goals, and aren't just the slackers she thought of them at first. She is able to see past the surface, and is even a little envious of the group. They have a dream they are working to achieve, while Yukari is just going through the motions. By choosing to become their model, she has taken the first step toward her own freedom, and making her own decisions for her life.
The art of Paradise Kiss doesn't seem very different from Nana, Yazawa's current manga series. I can see a lot of Nana O. in Yukari. The fashions Yazawa comes up with are sometimes outrageous, but always fitting of the character. Her realistic style works well with the fashions, but I do still enjoy the comedic faces she comes up with. Though I hope to never see one of them on George. It just wouldn't feel right.
Just like with Nana, I was pulled into this series from the first chapter and hooked by the characters. Their complex relationships really draw you in, as does the enigmatic George. It's easy to get just as caught up in his games as Yukari does. Like Yukari, I made the mistake of judging this title by its outward appearance. I'm glad the MMF gave me a push to check out this series. I'm now looking forward to reading more and seeing the fashion come into play, as well as where George and Yukari's relationship will go, or if it will last.