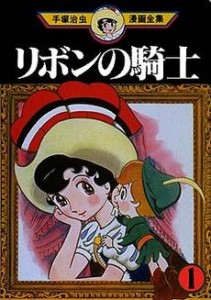 Vertical is a publisher that never fails to surprise, or deliver. Whenever licensing time comes up, Marketing Director Ed Chavez would get on Twitter and ask for license requests. In variably, there would be several people who would pipe up with Princess Knight, Osamu Tezuka's first shojo, and invaribly, Ed would shoot the request down. Now we know why. On Anime News Network's AnnCast, Ed was a guest where he announced not one, but two licenses, one of which was the oft-requested Princess Knight. The other was Drops of God, a wine manga that has been getting some press in the media for the affect it can have on a wine's price that is featured in the title. It was hinted at last April by the creators that the manga had been licensed in the US, but no publisher had stepped up. Now we know why.
I have to give Ed a lot of credit. He has quite the poker face/text. From his tweets in the last wrong, I got the distinct impression that Princess Knight was off the table as a request. He had said they were working on a Tezuka license, but with his catalog, that could mean just about anything! From the reaction to the news when it broke on twitter, I don't think anyone suspected Vertical would get either of these titles! That is being a good marketing manager. Vertical really scored when they got Ed for that position.
I myself am looking forward to Princess Knight. I read the preview that was run in Shojo Beat for it's 5(?) anniversary, and I really liked it. It definitely has a lot of merit beyond its historical significance. Drops of God….I'm not so sure about. I don't drink wine. I have no interest in wine, so a manga devoted to going out and finding the 13 best wines doesn't sound all that interesting. But, I've been wrong before. Most of the praise that it has gotten is for its detail about the wines, but according to one twitter-er, the title is written by the same time as writes Bloody Monday, another title that I'm really looking forward to, so this is a wait and see.
For more information about these two titles, check out the license requests by David Welsh.