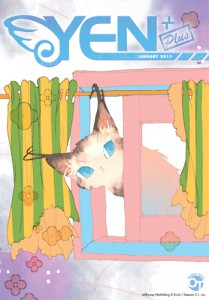 It's a new year, and that means another new series in Yen Plus! Yeah! And it's about a cat! Double yeah!! More on that later. But first, we're six months in with Yen Plus being on-line. For the most part, things have been running smoothly. This issue was the first time I ran into any problems, and they were minor. First, it took a week after payment for the issue to go up, so it wasn't available until the middle of January, but the holidays could be blamed for the delay. And I did have some trouble reading the issue, but those technical issues were taken care of quickly, and I could read the issue just fine the next day. Kudos to Yen Press for their quick response!
MilkyWay Hitchhiking is not only on the cover, but also starts the magazine this month. It's in full color, with a nice water-colored look to it. It starts by introducing Milky Way, a special cat with a coat pattern on her back that looks like the Milky Way galaxy. She is able to make wishes come true. Her first wisher is a male cat named Sarah. He wants to be human for one day, or at least a few hours. Milky Way grants his wish, to which Sarah the proceeds to paint her black, and leaves her with his owners, a rich boy who doesn't even recognize that Milky Way isn't Sarah. Over the rest of the chapter, we learn how Sarah came to the boy's home and why he wanted to be human for the day. Sarah's past is kind of sad, but the whole story ends happily, for Sarah anyway. Milky Way still needs to get that black paint off.
Witch and Wizard continues Wisty's and Whit's ordeal as they are interrogated by a self-righteous classmate, a weasely type of boy who gladly joins the new regime for the power it gives him. They have the typical trial for a totalitarian society, with verdict already decided, but being a "humane" totalitarian regime, they will be held in prison until they are 18 before they are executed. The chapter ends with the revelation that Wisty and Whit's parents escaped, so there might still be hope for them to get out. My jury is still out on this one. I'm probably going to need at least a volume to decide on this one. I know giving the villains so much power just gives the heroes more incentive to overcome them, but when they get too much it seems unrealistic, and I just don't care for that.
In Aron's Absurd Armada, the ship needs supplies, so Aron and Robin are sent out to get them, since Robin isn't on the poster, and without his wisp of a mustache (forcibly taken) Aron is unrecognizable. Of course, it turns out to be a disaster. Then we get to meet Aron's parents, who each have very different impressions of their son, with Victor's being the more realistic. One of the things I love about this title is MiSun Kim's ability to set up a serious looking scene and then turn it on its ear into something ridiculous and funny. What makes a lot of those scenes funny is because they are true to the characters.
Jack Frost finishes the fight between Hansen and Kay as well as Jack and the regenerator. Kay threatens to kill all of Hansen's new friends, and Hansen responses with a new power that turns his gun into something closer to a canon. He gets Kay, and in his final moments, Kay tells Hansen he just wanted him to get over his grief, and now that he has, Kay can rest in peace. With the drama over, Jack makes short work of the regenerator. During it though, another part of No-Ah's mirror image power awakens which seems to sync with the Pillar of Solomon. And it seems we will finally be seeing someone from the East District. It was nice to see Hansen finally get some closure, though the whole thing with Jack pretending to be dead was just too obvious. I'm still waiting for this title to make sense other a showcase for violence and fan service. I guess I'll be waiting a little longer.
In Daniel X, Daniel gets an intergalactic email with one heck of an attachment; a whole bunch of gadgets to help make Daniel's alien hunting easier. Now with a van full of electronics that can analyze an object's component parts and where those parts come from to cloaking the van so they aren't seen, Daniel goes after Number 6 and Number 21, who is working as a director for Number 6. Daniel tracks Number 21 to a small TV station transmission tower. Daniel X is still a lot more fun than Witch and Wizard. I can't say anything about Maximum Ride, since I haven't read it for ages, but I don't miss it either. I wonder what the demographics for each series is, and if that is what makes the difference? At any rate, it's nice to have a sci-fi series amid all the fantasy and cute girls.
Yotsuba&! has some playtime in this month's chapter. She pretends to make dinner and breakfast, and then she and her father go to the park where they swing on the swings, kick off a shoe to see who's can go the farthest, and then have a race to see who can get their shoe back first. Yeah. Can someone please explain the appeal of this title? I am really not seeing it. Is it a kid thing? Do you have to like kids to appreciate it? Or is it a living vicarious thing? I've only been reading for the last 6 months, and I still don't see anything appealing. There's no way I could do 9+ volumes of this.
K-on continues on its merry-go-round as it's summer break again, and the girls do the exact same thing as they did last time. Tsumugi has a summer-house near the beach which is bigger than the last one, but not really the "big one". The new responsible girl, Asuza, gets sucked into playing around more than practicing, so nothing gets done. There's more struggling to get through mid terms for Ritsu and Yui, and study sessions end up with manga reading instead of studying and Mio giving Ritsu a study guide so she really doesn't have to do anything. If you've read one volume of this title, you've pretty read the whole thing. Unless you like to look at pictures of cute moe girls, there's nothing here.
Milky Way Hitchhiking is a great title for the magazine, and Yen got a real win in getting it. It's got the potential to be an all ages title and being a cat title only makes the win more epic! Let's hope for the win for the Japanese side. It needs it badly now.