Due to illness, I was unable to do a roundup last week, so this week combines the two weeks. So what's in store? More licenses found and announced from Viz and Vertical, several digital manga stories, some news from Japan and Korea, 2 weeks worth of best seller lists, podcasts and the Manga Village roundup.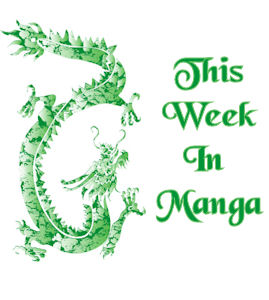 Gotta Catch Even More
The time-honored tradition of searching publisher websites for release dates tends to yield new licenses. A search of Simon and Schuster's site recently revealed two new Pokemon manga. Pokemon Adventures: Platinum is a new story arc in the long running Pokemon series known as Pocket Monsters Special in Japan, which doesn't differentiate the arcs. Though the strategy makes sense here in the US as players of the games will easily recognize which pokemon will be featured just by the title. And players do have their favorites. The other title, Pokemon: Arceus and the Jewel of Life is an adaptation of the 12th Pokemon film to be released in both the US and Japan. While this might seem pointless, as the film can be seen, kids do enjoy these adaptations. The Pokemon manga in general have been good, solid reads. I know my youngest daughter enjoys reading them.
Jumping on the Band Wagon
At the recent convention Anime Weekend Atlanta (AWA), Vertical announced a new title to be released next year. Velveteen and Mandala is a one volume title by mangaka Jiro Matsumoto. It's about a high school girl, Velveteen who lives with her friend Mandala in a battle tank on a riverbank, and together they exterminate zombies in a postapocalyptic Tokyo.  While I don't know anything about Jiro Matsumoto or his work, and I don't doubt the quality of the titles Ed Chavez finds for Vertical, I would just like to say here and now how sick I am of zombies. They have been the monster du jour for far too long, and the last thing we need is more of them. I just want to know what the game manga that might be coming up from Vertical might be. Ed is such a tease.
Digital Roundup
Several digital manga stories broke over the last two weeks. First up, Japanese BL publisher Libre has sent cease and desist letters to several US scanlators. Brigid Alverson at Robot 6 makes some observations including how nice it was that some of the scanlators complied without making a big deal about it, and that it's odd for a manga company to go after titles not licensed. Usually it's the soon-to-be licensed titles that get targeted. So that leaves the question, is Libre looking to bring more BL titles to the US? They have published several through the Kindle, though they have been re-releases of previous CPM and Deux titles. Or are they just protecting their copyright? It isn't completely unheard of for a Japanese company to ask for all their titles to be taken down. Media Factory asked for all it's anime titles to be taken off trackers several years ago, licensing not withstanding. BL fans should keep an eye on this.
The Tokyo Game Show was last week, and Square-Enix is a big player in both the gaming world and the manga world. At this year show, they gave a few more tidbits about their forthcoming digital manga store. Originally announced that the service would begin in the fall, it has been pushed back to the Winter. The store will use Square-Enix's existing store setup for selling gaming merchandise, but will not have any manga for the ipad/iphone outside of Japan. Not that I care about the ipad or iphone. The world doesn't revolve around Apple and I wish publishers would figure that out and bring out something for more platforms than just Apple's. /Rant. Unfortunately,other than the pushback in the timeline, this isn't really anything new. A bigger list of titles and pricing would have been news.
Tokyopop continues to push Hetalia, this time by announcing that it's working with Comixology to release individual chapters through the site, with the first chapter as a free preview. They make the faux pax, as Johanna Draper Carlson of Comics Worth Reading points out, that this isn't a first day print/digital release. Hetalia has been available digitally for several weeks through Zinio and Overdrive. It might be Comixology's first manga release, but it's far from a simultaneous release. And for readers who just want to read and go, the Comixology deal isn't so bad. The whole first volume can be had for around $5.00.
News From Asia
Ghost Hunt Manga Ends
Kodansha has published the 12th and final volume of Ghost Hunt, a title based on a series of novels by Fuyumi Ono, the writer of 12 Kingdoms. Del Rey manga has been publishing this title with the 10th volume released last year. I really like this series, though the slow release of the series has been frustrating. But that can't all be blamed on Del Rey. Kodansha has been releasing the series in tankoban form rather than serializing it, as it first started. I wonder with this last volume if Del Rey will omnibus the last two volumes. Or if Kodansha will even let them. Whatever is going on between/with these companies, I wish they would resolve things, one way or the other. I'd rather know than be left in limbo.
Live In Korea
Recently two well-known Japanese manga have been announced to get live action dramas….in Korea. Korean producers seem to recognize the strength of Japanese manga and will make TV shows of the titles Eagle and City Hunter. Of course, these aren't going to be faithful adaptations. Eagle is being changed from a Japanese-American trying to become the President of the United States to a Korean native trying to become the President of South Korea. I wonder how much of this will translate, since so much of Kawaguchi's manga was about American politics and prejudice. It might be interesting to see who the Koreans change it to fit their political system. Maybe it won't be so different after all.
Changes are in store for City Hunter as well. The 80's action detective comedy set in Tokyo will now be set in Seoul in 2011. Instead of a sweeper, the Korean Ryo Saeba will be a former CIA agent who is now a gun-for-hire. City Hunter can take the setting changes easily, as the setting isn't as important as the characters, their interactions and the stories. What really depends with this adaptation is how far will they take the comedy? A serious City Hunter would be no fun, and a faithful rendition might not make it past the censors. It's gonna be another wait and see series.
NYT Best Seller List
Two weeks of best seller lists… well, let's get started. Twilight continues to hover between spots 6 & 7 on the Hardback list. Still going strong though at 27 weeks total. That's almost 7 months! On the manga list the top three spots didn't change at all. #1 is held by Bleach vol 32, #2 is held by Maximum Ride vol 3 and #3 is held by Alice in the Country of Hearts vol 4. Last week's #4 was Butterflies, Flowers vol 4 and this week it's taken by Dogs vol 4. Rasetsu vol 6 was at #5 but Naruto vol 48 moves up the list to claim the spot this week. The Legend of Zelda: Phantom Hourglass was at #6 last week, but it gets booted in favor of Inuyasha vol 52. Bakuman vol 1 was at #7 last week, but Arata, the Legend vol 3 pushes it down the list, and takes over. Shaman King vol 30 was at #8, but Black Bird vol 5 returns in its place. Tegami Bachi: Letter Bee vol 3 holds down the #9 spot for both weeks. #10 for the last two weeks was Naruto vol 48 and Bakuman vol 1 respectively who took/lost spots over the same time. It's interesting that 6 titles stayed on the list, and 4 of them in the same spots! Viz's releases really swayed the list a lot, but with them being the only major house t release titles over these two weeks it's not surprising. We'll see how/if things change with Yen Press doing a big release this week.
NYT: Second Opinion
There are no Bookscan numbers for these last two weeks, but there are some Rocket Bomber numbers.  So, what crosses over?
9/12/10
1. Maximum Ride 3
2. Alice in the Country of Hearts 4
3. Bleach 32
4. Naruto 48
5. Rosario+Vampire Season II 2
6. Bleach Color Bleach+: The Official Bootleg
7. Maximum Ride 1
8. Black Bird 5
9. Negima! 27
10. Fullmetal Alchemist 23
Only 4 titles cross, and none in the same spots. Black Bird vol 5 does make a return in the next week., and the top three are once again all the same titles, just a different order. Negima! and Fullmetal Alchemist seem to do well with online ordering as does the Color Bleach + The Official Bootleg.
Manga For Your Ears
Sesho's Anime and Manga Reviews
This Week at Manga Village
What I'm Reading
Gestalt vol 8
After School Nightmare vol 5
Project X: Cup Noodle