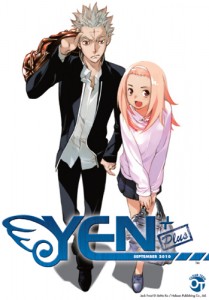 Just before the Labor Day weekend, Yen Press sent out the announcement that the new issue of Yen Plus was available and subscriptions were being accepted. I immediately forked over my $2.99. At that price, and with no bulky magazine to take up more space I don't have, it's totally worth it. Just as I do with Shonen Jump, I will be giving a brief report of the chapters each month. I will not be reading Maximum Ride or Gossip Girl though. Neither story interests me. If this were the print mag, I might page through them because they were there, but online, I have no problem with just skipping them. Even without reading those two titles, Yen Plus still beats out Shonen Jump with a total 368 pages, most of which are manga chapters and not news on anime, video games or card games. Already a big plus for me! It also keeps it's origianl format of a side "A" and "B". The "A" side is for the Manhwa/OEL titles and the "B" side is for the Japanese titles.
First up is Jack Frost, a title I haven't been impressed with over the last three volumes. But, since I've read that much of it, and it's in the magazine, I'll keep up with it, and see if anything improves. This chapter shows the aftermath of Helmina broadcasting the whereabouts of the Lost Lake and the Pillars of Solomon to all of Amityville. Of course, the guardians of Lost Lake aren't too thrilled with the revelation, since now they are a target, but the man in charge, Mr. Fury, believes that Helmina has something in mind. Whether that's a good or bad thing…well we'll see. Meanwhile, Jack has another challenger who wants to take him on, and he's assisted by someone Hanson says should be dead, Ridicule of Samiel. This chapters follows the routine that Jack Frost seems to have set up. Talking heads, panty shot, fight; lather, rinse, repeat. It would be nice to see that routine shaken up a bit. Many less panty shot and more plot?
Nightschool ends in this issue with the last two chapters. This makes me sad since Nightschool is one of the draws of Yen Plus for me. I love Alex, her astral, and the whole set up of the world. Yen has promised more Nightschool stories, but they can't come fast enough for me! After the reveal of who was responsible for releasing the Sohrem last chapter, Daemon, Mr. Roi and Madame Chen then have to figure out how to stop the Sohrem, remove them from their hosts, seal them away and reverse all the damage that was done to the world. No small feat mind you. But between the three they are able to do this surgery on reality and give the story a happy ending. I'm glad. I like Alex's sister Sara and am happy that she's back, dragon hatchlings and all. Please come back soon!
I think Aron's Absurd Armada is starting to grow on me. This month featured Ronnie, the girl they rescued last issue. Everyone thinks she's a boy though. She shows off her knowledge of the sea and sets the ship's course to intercept her ship. Some of the strips are pretty funny, such as when Anton lets Ronnie go down to the wreck of her ship by herself, because he knows what she'll find. Actually Anton and Gilbert strike he as the two smartest people on the ship. It's a good quick read.
We get another two chapters of Daniel X this month. His attempt to get to Ergent Seth isn't going well, as Ergent is always one step head of him. He tries to warn Daniel off a few more times through some cats, but he won't back down, so Ergent shows him what he's really up against, and it doesn't go well for Daniel. The new love of his life, Phoebe, doesn't go the way he planned either. A captive of Ergent, he is whisked away with the other of Ergent's captive children and taken to his home planet, Alpar Nok. It's nice to see that Daniel isn't invincible, though Ergent's ploy was a little cliché to say the least. Though, I do like Ergent's design. It's not everyday you see a horse in a suit. With a scar. It will be interesting what Daniel's real home planet is like and how he's going to get away from Ergent.
Time and Again is one of the titles that made subscribing worth it. In this month's chapter, we get to see into Baek-On's past. Thoughout the series so far, we have seen Baek-On's regrets regarding a girl and what he did to her. This chapter shows who the girl is and what she meant to Baek-On. But it's not all love and roses, otherwise Baek-on wouldn't be on the path that he is. Once again it has to do with reincarnation, and an animal spirit's desire for revenge. Hunters should be careful lest their kills start coming back to get them. Animals do not fight fair. This was the best chapter of the magazine, behind Nightschool. It was rather heartbreaking to finally see the truth.
Yotsuba&! is one of the newest titles to the magazine as well as one of the first for the Japanese side for the digital edition. In the chapter, we see Yotsuba have a nightmare and try to create a schedule. Then she and her father go shopping at a mall, and she finds the perfect teddy bear. Frankly, Yotsuba&! isn't a draw for me. The series is nice, and I did find the chapter with Yotsuba going through the teddy bears and checking them for huggability cute. But I'm not enamored by Yotsuba's cuteness. I'll read it, but it's not a must have for me.
The first debut title for Yen Plus' digital edition is K-On! This is another 4-koma series about a high school girl,Yui Hirasawa, who can't decide on what club to join, so she joins the pop music club, not realizing it's a band. She can't play an instrument, but she gets talked into staying and learning to play guitar by the other members so they can keep the club going. I wasn't sure if I was going to like this title or not. I've heard a lot about it online, but my tastes don't always run with the crowd. But so far, I do like it. Yui is fairly typical for a high school student, not knowing what she wants to do. And the way she gets convinced to stay was well done. I also like Tsumugi. She is really nice, but also really rich. The way she gets the guitar discounted for Yui was funny. I will definitely keep reading this one.
This issue wasn't bad for a first pay issue. The transaction was easy through paypal. I had access immediately after paying. It's next issue that gonna be a deal breaker for a lot of people probably. With Nightschool gone, even for me the only must read title is Time and Again. The rest I can either take-or-leave or I like, but not really like. The Japanese side really needs a few more titles, and something with some action would be nice. I was excited about Yen Plus before when it had Black Butler and Hero Tales in it. Without a really good anchor though, I don't see this lasting very long, even with the $2.99 price. Hopefully Yen has some titles in the pipe that they are just waiting for approval on.