Woofles regular Chizuru advises her friend Serina, who is contemplating motherhood, to try looking after a dog first. Can Chizuru's dog melon and a new puppy convince Serina that their affection and cuteness are worth the aggravation?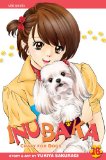 By Yukiya Sakuragi
Viz Media
Age Rating: Teen+
Genre: Animal/Drama
Price: $9.99
Rating:





My first two reviews of this series were lukewarm, due to the fan service and doggie-ness of the title. I'm a cat person and don't care much for dogs. This volume however, dealt with more plot and general animal care than just doggie-ness, so I could appreciate it and it's message much more.
This volume picks up where volume 15 left off with Amuro being seriously injured in a car accident. Suguri's quick thinking and level head saves the dog long enough to get to the animal hospital. Despite her dislike for Amuro's owner Fujita, who kidnapped her as a child and is now stalking her, she allows Lupin's blood to be used in a transfusion. Even though this doesn't help get rid of him, and he keeps showing up throughout the volume, Suguri does gain some valuable information about Lupin's grandfather, the dog that rescued her. It seems he may not be the only good samartian dog around. I found the introduction of this plot point to be very interesting. Who trained these dogs, and why do they help people and then disappear? It actually sounds intriguing.
The rest of the volume is spent showing some of the difficulties of being a pet owner. First, Chizuru has to wrestle with the decision to have Melon fixed. while this may seem like a no-brainer to veteran pet owners, seeing Chizuru agonize over the decision, and then see things turn out alright in the end, may help other new owners realize it's okay to alter a pet. And then there's Chizuru's friend Serina. Her story realistically shows the problems of getting a puppy and the work it really is to take care of one. The parallels to having a child are obvious, with such things as having to clean up after them and dealing with their crying. Serina, and her husband show themselves to be irresponsible, and not taking the job seriously. Whether it's a child or a pet, the same amount of responsibility is required, and these chapters show this very well.
I really enjoyed this volume, much more than the previous ones I'd read. The plot of Lupin's heritage and the Good Samaritan rescue dogs is really intriguing. Suguri handles herself really well with Fujita as well, making it very clear that she doesn't want to see him or have anything to do with him. But being the stalker that he is, he doesn't listen. The chapters with Chizuru and her friend are excellent lessons in pet ownership, and would make good pamphlets on their own about caring for pet and thinking carefully about why and how committed you are to getting one. There are a few panels of fanservice, but they are as blatant as earlier volumes.
If Inubaka had been like this from the earlier volumes, it could have made a fan of me sooner. It's still a series for dog lovers, but it's also finally showing itself to have appeal for the non-dog persons like me.