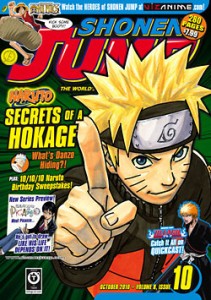 Once again, this month's Shonen Jump feels light as it's only at 280 pages. Along with the four regulars, there is a preview of a new series, Genkaku Picasso by Usamaru Furuya. He has had a few previous series' published in English, including Short Cuts from Viz, nearly had 51 Ways to Save Her from CMX and will have Lychee Light Club from Vertical next year. This series was published in Jump SQ, and will have the first three chapters previewed in Shonen Jump.
Genkaku Picasso starts off by introducing the main character Hikari Hamura, the Picasso of the title. He isn't very sociable and has just one friend, Chiaki Yamamoto. They have their own club, the Riverside Club, where Hikari draws and Chiaki reads books on psychology. A helicopter crash ends the club early, leaving Chiaki dead and Hikari miraculously alive, but not without a price. Hikari learns this in a rather shocking way, in class of course, from a small, winged Chiaki. He has to help people otherwise his body will decay. It's an intriguing start to the series. Only a few titles start with killing off their protagonists. I do want to read more to see where the "helping people" goes. I'm guessing it has something to do with his artistic ability.
Naruto shows the end of Danzo with a flash back to his youth with the Third Hokage. It doesn't really make him a more sympathetic character with just this flashback. If that is what Kishimoto was going for, more was needed before his last dying moments. He doesn't have the same flare of revealing backgrounds at crucial moments as does Eiichiro. Sakura arrives claiming to want to join Sasuke but it's just a ruse that doesn't work. Kakashi then arrives to take on Sasuke with Naruto racing on his way. So it's setting up for another clash between Naruto and Sasuke, with a big battle in between with Kakashi, or Sasuke's gonna escape before he and Naruto can really get into it. I wish they would just get it over with between Naruto and Sasuke. All the emo-ness going on between Naruto and Sakura is getting boring. Sasuke isn't going to just change his mind, and even Naruto fighting him isn't going to be enough. I get the feeling that this is going to be a at-the-brink-of-death change of heart. With the way things have gone, I just don't see how Sasuke can become friends again with them and still live with what he's done.
One Piece continues the fight to save Ace. Luffy faces off with Mihawk, one of the Warlords of the Sea, who starts his attack by slicing the massive iceberg in half. Whitebeard sends his men in to keep Luffy free to reach his brother. An army of Kumas then appear and attack and Sengoku makes his move to execute Ace early. In the midst of all this, Whitebeard is attacked by Squard, on of his own men, who fell for a Marine ruse. But that doesn't stop him from joining the fray, and really showing off the power of the Quake-Quake fruit. These chapters end with the Admiral Akainu using his power to melt the ice that the pirates have been using to get to the plaze where Ace is being held. These chapters are more fighting, but they also show how the World Government continues to try to keep the truth from the people. The truth that in many ways they are no better than the pirates they claim to be protecting them from as they shut off the broadcast so the rest of the world can't see them execute Ace earlier than they announced. The more I see of the World Government and the Marines, the more I want Luffy and other pirates take them down. What the World Government does and has done is infinitely worse than any of the pirates we've seen so far.
I'm still on the fence about Ultimo. This month's chapter starts off with Yamato getting the usual stuff about time travel; arriving naked, limited time, no changing events, etc. Then he gets to the estate and actually meets Iruma, and finds out, he's not such a bad guy after all. The lord of the estate is rather familiar as well. The arrival of Dunstan with Jealousy changes Iruma as he gives in to the envy in his heart. It will be interesting to see how Yamato reacts/deals with this and if he can resist getting involved.
Bleach has the newly transformed Nel with the number 3 emblazoned on her back taking on Number 5 Nnoitora. She intends to protect Ichigo, but she might not be up to current Espada standards. Renji and Uruyu are still fighting Szayel-Aporro, though Renji does bring the house down, so to speak. This causes Szayel to release this true power, voodoo dolls that allow him to crush his opponents innards. So, how are Ichigo, Renji and Uruyu going to get out of this? Or should I say who's going to pull their butts from the fire this time? A miraculous recovery from Chad or Rukia? Or maybe someone else? Or even more cliché, Ichigo powers up again. Meh.
There were some changes to the features in the magazine as well. All of the anime at the front is now divided between DVD, TV and Streaming, and only features SJ titles. But at least it features all the SJ titles, including Hikaru no Go, Prince of Tennis and Buso Renkin. The other noticeable change is in the New SJ Manga and In the Next Issue… sections. Reduced to just a few titles and one page each, it does look kind of sad when the In the Next Issue especially used to span two pages. But that's when there was more titles. Changes were promised in the December issue which is coming up fast. And NYCC/NYAF is only a few weeks away, so hopefully there will be more news on what those changes are, and especially hope they will be good. This mag needs an infusion of Fresh, and soon!