I picked up volume 5 of You're So Cool without having any idea what I was getting into. Reading random review copies from publishers can be hit or miss, but for me, it"s part of the fun of reviewing. A series that doesn't look interesting from the back blurb or cover can turn out to be a diamond in the rough. That's what You're So Cool turned out to be for me.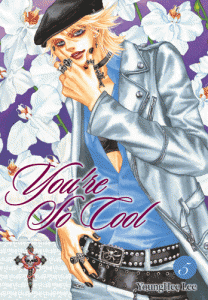 By YoungHee Lee
Publisher: Yen Press
Age Rating: Teen
Genre: Romance/manhwa
Price: $10.99
Rating:






Buy These Books
You're So Cool is about the tumultuous relationship between the seemingly perfect Seung-Ha, and clumsy, clueless Nan-Woo. By volume 5, their relationship seems to be stabling out, but personal issues in Seung-Ha's life staying weighing down on him. After getting sick from walking in the rain, and a night of feverish dreams, he decides to leave everyone behind, including Nan-Woo. The stubborn Nan-Woo can't accept his leaving and goes searching for him, which includes camping out in front of his house, telling off his family, and finally finding him where she then proceeds to beat him up. The series ends happily for both Seung-Ha and Nan-Woo, and the sub-plot of relationship between Nan-Woo's uncle Jay and Hyun-Ho.
I wasn't sure what to think of this series at first. I didn't have the background of the previous four volumes to explain who everyone was and what their relationships were, but by the end of volume 5, I was able to work it all out. The quirky collection of characters that make up this cast is what eventually won me over, in particular, Nan-Woo's mother. She's a tough, no-nonsense type a person who doesn't mince her words. She's also rather violent. She kicks down doors and emphasises her words with her fists, though always in comedic rather than serious kind of way. But for all her violent tendencies, she really does care for Nan-Woo, so it was nice to see the more caring and rational side of her after the violent outbursts.
Nan-Woo is definitely her mother's daughter, as she has her own violent moments, but her sincerity and conviction is hard to resist. Seung-Ha plays the jerk well, but doesn't come off as one in these last two volumes. His personal problems mitigate any dislike I might have had for him if I'd read from the beginning. Jay was a mystery until the last volume. I spent most of volume 5 trying to figure out if he was a guy or a girl,and didn't get any kind of confirmation until volume 6. His more gentle personality balances well against his sister's, but he did come off as rather emo.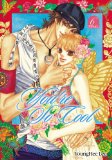 These last two volumes deal with Seung-Ha having to make the choice of facing his problems, or running way from them. I think Lee did a good job of showing his emotional turmoil, and how he comes to the decision that he does. He doesn't make any reversals of personality, and the makes the choice that seems to make the most sense to him. Of course, it takes Nan-Woo to show him the error of his ways, and finally find the forgiveness that has evaded him for so long.
Lee does a good job at drawing bishonen guys. Seung-Ha and Hyun-Ho are especially hot looking. And as I said with the aforementioned Jay, it was impossible to tell if he was male or female. But since his gender was supposed to be difficult to tell, Lee gets props for it. The one thing I had a problem with, and actually fixated on for about half of volume 5 was the size of the characters hands. They are HUGE compared to the rest of the character's proportions. Seung-Ha's hands were as big as Nan-Woo's head! I honestly didn't think I would be able to get over that, but I found myself drawn into the story so much that I stopped noticing them. It was only when I went looking for it that I saw the size difference. The character's eyes are overly large too, and for people who may be a barrier to checking out this series. Don't let it be. This story is worth looking past these artistic styles.
Overall, I found the ending of You're So Cool it be a good and satisfying one, and I didn't even start at the beginning. I'm glad I took the chance to read it and didn't let the art keep me from getting to the end. It proved to be an enjoyable read, with characters that are fun and funny at the same time. If you get a chance, and you like romances with quirky and some times violent characters, then definitely give this title a try.