Japan is approaching a tipping point, with increasing pressure from the West to open its borders. The Shinsengumi are being trained to use firearms, but Ikita refuses, insisting on the way of the sword. he represents many in the group who cling to old samurai values. But it is clear that the times are changing and the Shinsengumi embodies the "old  guard." Will they survive the coming upheavals?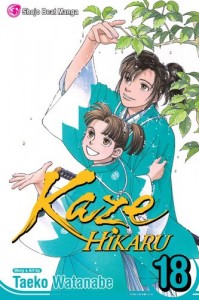 By Taeko Watanabe
Publisher: Viz Media – Shojo Beat
Age Rating: Teen+
Genre: Historical/Romance
Price: $9.99
Rating:






Buy This Book
The tone for this volume is set at the beginning, with one of the soldiers being sentenced to death for having an ilicit affair that was discovered. From then on, it's one character after another dealing with some relationship, or potential for one; Ito and Hijikata, Ito and Nakamura, Soji and Kohana, Kondo and Miyuki-Dayu, and the ever-present Soji and Sei, all dealing with some problem. Some aren't too serious, such as Ito's and Captain Kondo's. Ito has a wandering eye, and seems more interested in using his wiles to further his plots, while Captain Kondo suffers from "love at first sight", falling for women he doesn't even know and often behing taken advantage of by them.
Soji's relationship with Kohana comes to a head, and he doesn't even realize there was one. Kohana had fallen in love with Soji, but he didn't notice. He can't. If he were to notice Kohana's feelings, then he would have to acknoweldge Sei's feelings, and that can't happen yet. Soji's cluelessness about women's feelings is very frustrating, and not just to the characters. After 18 volumes I would imagine many readers getting frustrating at the lack of movement between Soji and Sei. I know it's become tiresome for me. Though, perhaps this resolution could be removing a block that could get them closer together.
What I enjoyed about this volume was the historical and cultural references that are explored. Bushido is always talked about in reference to samurai, but this volume explified it in several scenes. First is opening chapter with the soldier being forced by honor to kill himself. Captain Kondo makes the decision to leave Osaka, letting the Shinsengumi take the blame for any disgrace that might be placed on the Aizu Clan, their sponsors. And Okita's decision not to participate in rifle training, because it doesn't allow him to look in the eyes of the person he is about to kill. The concepts of Bushido really hit home when you see the characters showing how it affects their own actions, even if it isn't the wisest decision.
Historically, there is a tease about Nakamura Goda, who in this volume is played to just be another soldier infatuated with Sei. It was fun to see the Japanese people's reactions to coming of the Black Ships, and the possiblity of being invaded. The rumors that spread about the European/Americans, such as they have demons on the decks of their ships, that they eat the heads of young girls, are perfect examples of the anxiety the people were feeling. And of course, among the Shinsengumi soldiers, the rumors of "size" were what mattered most.
Kaze Hikaru is a well written story, with some great historical references and cultural insight to the time before the end othe Bakufu, but the romance side is so frustrating. You would have to have a lot of patience to put up with Soji's cluelessness. But with a large ensemble cast, it's easy to keep moving the focus. And with intrigue moving into the Shinsengumi ranks, the posibility of drama not related to romance gets greater.