In this week's post: News from Kumoricon, free manga online, manga by subsciption online, manga in libraries, respect for shojo, or the lack thereof, New York Times Best Seller list, second opinions, podcasts, and the Manga Village weekly roundup.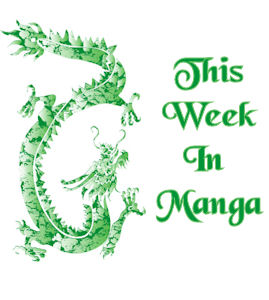 Light at the End of the Dark Horse
Con Season is winding down, but there is still news coming out of the smaller cons that are still going around. Kumoricon is the hometown for publisher Dark Horse, so it would make sense that they would save their news for the hometown folk. It also makes sense that John Thomas, also a hometown boy would break the news. Two Dark Horse titles previously put on hiatus and are back on the publishing schedule. Fan favorites Eden: It's an Endless World and MPD-Psycho will start-up again, and as long as fans buy the books and tell Dark Horse they want to keep reading them, Dark Horse will keep publishing them. But you've got to buy them. There are only a few volumes left. Don't let either of these become dropped orphans.
More Rising Stars
Japanese internet provided NEC Biglobe has joined the digital manga revolution, and they're inviting us US readers to join in! Their bilingual magazine, Manga Boshi, features stories from young university students and graduates, and showcased 10 new stories every month. It's a great way to get a taste of what up and coming manga artists in Japan are doing. There are a wide variety of stories, all of which feature the theme of Summer in the first issue.
Yen Plus Goes Live
On Friday, Yen Plus went live with a new issue and a new subscription model. For $2.99 a month deducted from your paypal account, you get access to two issues of Yen Plus; the current month and the previous month. September's issue features the first of the Japanese titles to join the magazine, Yotsuba&! and K-On. Ending this month is Svetlana Chmakova's Nightschool. I'm going to miss that title. I hope we get to see more in the Nightschool universe and of the characters. The OEL/Korean manhwa still dominate the magazine, but hopefully more Japanese titles will be added as time goes on. The digital version of the magazine still features the split format of the print, with the OEL/Korean on the "A" side, and the Japanese  on the "B" side for right-to-left reading. I dropped my $2.99, so expect a review of the September issue soon!
Can't read online? Go to the Library!
You're favorite manga's not available online and you can't keep up with the releases? Then go check out a library! You might be surprised by what they have on their shelves. Deb Aoki of About.Manga.com polled Twitter users for their top 10 manga that libraries should carry and sorted the answers to come up with the top 50. Librarian Robin Brenner also gives her two cents why these titles belong on the library shelf as well. You're library doesn't have the titles you want? Robin returns with 6 tips (plus one bonus tip!) on how to get your library to carry more. Libraries are in your community for you to use. Why not take advantage of them? You never know, you might find a closet manga fan close by that you never knew about!
Shojo: The Rodney Dangerfield of Manga
Over the past week, there has been some debate going on around the mangasphere about the lack of respect shojo manga seems to get with critics, and even among its own audience. David Welsh of The Manga Curmudgeon put his thoughts about it together into a blog post that looked not just at reviews of the new Moto Haigo title Drunken Dreams and Other Stories, but raised the question of gender bias by critics in women's literature in general. Definitely read the comments on his post for some interesting thoughts. Then Brigid Alverson at Robot6 writes a reaction to David's post, which really stirred people up, as the comments on her post will attest to, basically saying people were reacting to the shojo as a genre, not the gender. I think in some ways both are right. I don't agree with Brigid's definition of shojo, but it's very easy to get tired of some of the tropes that can dominate the genre and gender doesn't really play a role with those problems. I know I can't stand the dizty, clutzy leads that  show up in a lot of titles. But that's not really issue. In the reviews cited by David, the reviewers are trying to prop Drunken Dreams up by putting down the whole genre the title is supposed to be a part of. If you are trying to speak to an audience that doesn't read shojo manga, is it really better to talk about how it's not like books they don't read? Wouldn't it speak better to them to compare it to titles they would be familiar with?
NYT Best Seller List
This week's list is just full of surprises, and titles pop in from all over the place! First, over in Hardbacks, Twilight slips down one to #7, but says firmly in the top 10. Over on the manga list there is a new #1 as Bleach vol 32 debuts, as well as Alice in the Country of Hearts vol 4 which debuts at #2. Last week's #1, Maximum Ride vol 3 falls back to #3 and another newcomer, Junjo Romantica vol 12 takes #4. Naruto vol 48 falls back 3 to rest at #5 while the fourth new addition, Chibi Vampire: Airmail, arrives at #6. Rosario + Vampire Season II vol 2 drops four to #7 as the fifth and final new release, Air Gear Ominbus vols 15/16/17 appears at #8. Black Bird vol 5 holds on to the list but still falls five spots to #9 along with Bakuman vol 1 which comes to rest at #10. This is a good mix of books covering Viz, Tokyopop, Yen Press and Del Rey. The appearance of Air Gear shows quite an audience has been waiting to get a hold of these final books.
NYT: Second Opinion
Book Scan top 10 from MangaCast shows a very similar list to the NYT:
Bleach vol 32

Alice in the Country of Hearts vol 4

Maximum Ride vol 3

Warriors: Ravenpaw's Path vol 3

Naruto vol 48

Junjo Romantica vol 12

Pokemon: Diamond & Pearl vol 7

Black Bird vol 5

Rosario+Vampire II vol 2

Air Gear vol 15/16/17
There is only a two title difference; Warriors: Ravenpaw's Path vol 3 and Pokemon: Diamond & Pearl vol 7. Bookscan seems to favor the all ages titles more. Probably because the kids are seeing the titles in bookstores and getting their parents to buy them and/or buying them themselves. This is an audience that isn't going to be shopping online.
Matt's list will be late this week, but I will add his analysis as soon as he posts it to keep the comparisons consistent.
Matt Blind has his numbers from Amazon/B&N up, and as usual, they don't quite match up as much as Bookscan:
1. Maximum Ride 3
2. Naruto 48
3. Rosario+Vampire Season II 2
4. Bleach Color Bleach+: The Official Bootleg
5. Black Bird 5
6. Negima! 27
7. Fullmetal Alchemist 23
8. Alice in the Country of Hearts 4
9. Vampire Knight 10
10. Bleach 32
The online world seems to have a different view on things. This week"s list more closely resembles last week with only Alice in the Country of Hearts vol 4 and Beach vol 32 joining the list.  There is still a majority of titles that are them on all the lists, but the Amazon/B&N list varies the most, both with respect titles and to order. NYT and Bookscan's #1 and #2 are #10 and #8, and it's off by 4 instead of 2.
Manga For Your Ears
Manga Out Loud
This Week at Manga Village
What I'm Reading
You're So Cool v5-6
Inubaka v16
SA v11
Kaze Hikaru v18
Sand Chronicles v8