Amidst the chaos of World War II, two Japanese soldiers hear of Zephyrus, an utterly captivating woman rumored to exist on an island in the South Pacific. The tales of this bold enchantress seducing men to their dooms are both chilling and fascinating. Over twenty years pass, and Zephyrus resurfaces in Japan, seemingly unchanged, to wield her mysterious power over men once more.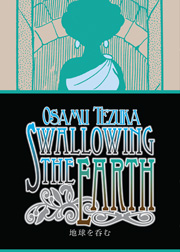 By Osamu Tezuka
Publisher: Vertical, Inc.
Age Rating: Teen+ (16+)
Genre: Action/Mystery
Price: $24.95
Rating:





The one man immune to Zephyrus' charms is simple drunkard, Gohonmatsu Seki, son of one of the wartime soldiers. Employed to spy on Zephyrus, what will Gohonmatsu uncover about her ultimate plot to create international discord and consume the world of men? What brought this woman to conspire for decades against patriarchal society-against an entire gender-and can anything be done to stop her plans?
Swallowing the Earth is a strange tale of revenge as a few women start a war against the entire male gender for the wrongs done to the female gender. It takes a long and meandering path to come to a simple conclusion; true happiness is only attainable if one is free of lust, power and greed. Or, as the Beatles would say, "All You Need is Love."
A woman, Zephyrus, is betrayed by her husband during World War II because of his desire for money and power. She runs away with her 6 daughters and finds peace on a South Pacific island, away from the world of men. Her dying wish to her daughters is for them to take revenge on all men for what happened to her by making all money worthless and creating anarchy, and to scorn all men. The daughters plot and prepare, and 20 years later, set their plan in motion. One man stands in their way; Gohomatsu Seki. He is a simple dock worker who doesn't care about anything but alcohol. He is immune to Zephyrus' charms and travels to the South Seas and the United States to try to stop her plans.
In between chapters of the main plot line there are short side stories. These stories relate back to what is happening in the main plot, often illustrating the effects of Zephyrus' plans on ordinary people. With the introduction of the synthetic skin, 5 strangers in the US south become a family. And in another, after the economic collapse, a doctor tries to help a young woman with no memory of voice.
I'm not really sure what to make of this title. On the surface, it appears to be about women using their intelligence and other tools to turn the tables on men. They are shown to be strong and taking the initiative by showing men the folly of their ways for last few decades. Zephyrus is portrayed as taking revenge on men for the way women have been treated and men are shown getting their just desserts.
A closer look at the work however, shows the opposite. It portrays women as petty and vindictive. The whole plot is concocted because one woman was betrayed by one man. She wasn't the first, nor would she be the last. The sisters aren't working against man for the good of women. They are doing it for one person, their mother. Zephyrus created a look that men would find irresistible, exploiting their desire for lust, but woman as seductress are always shown as a negative. This is a pattern I've noticed in Tezuka's other work Black Jack. Beautiful women are greedy and will betray the men attracted to them. And even though the sisters are working take down men, they are making women suffer as well. The side story of the Doctor and female patient illustrates this. There is nothing good or noble in their acts. In many ways, they are no different from the men they wish to punish.
Gohonmatsu is an unusual protagonist. He is an alcoholic, and doesn't care about anything but drinking. While this would normally keep him from being the good role model most protagonists are usually portrayed as, his lack of desire for power, money and sex keeps him from falling under Zephyrus' spell and thus the only man capable of standing up to her plans. So, he's got something good going for him. Even as the world falls apart over greed and vanity, Gohomatsu remains unaffected as long as he can get, or make, alcohol. Material things have no hold on him as he can easily barter a drink of his alcohol for them, and they trade them all for a wedding ring for Milda. It's the intangible that matters most to him, whether it's the taste of alcohol, or the happiness of the woman he loves, he can throw all material things away for the things he loves. In many ways this makes him a noble character.
Swallowing the Earth is an intriguing title if you are a fan of Tezuka or older gekiga manga. It isn't as dark as MW, and does have some interesting things to say about men and women. I don't regret reading this title, but it's not one I would pick up again. I enjoyed reading the vignette stories more than the main narrative, which often felt disjointed. By the end though it feels like little has changed. Zephyrus' plans had succeeded, and the world returned to a simpler way of life before technology and to a barter economic system, but not people. The cycle of revenge tries to start again, and while it is stopped, this time by Gohomatsu's son, it makes me wonder what was the point of this title. But then again, maybe that was the point. Fundamentally, people don't change.
Digital review copy provided by publisher.