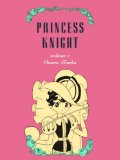 With February's Manga Movable Feast being about Osamu Tezuka, I spent this week concentrating on the few titles I had left that I hadn't reviewed yet. In going back and looking for the links of older reviews, I couldn't believe how much Tezuka I had actually read over the years. The first manga by Tezuka I ever read was MW, which was a serious eye-opener for me. Next came Dororo, a title I enjoyed a lot, and thought was criminally short. And then there came Black Jack. I loved it from the first volume, and I have managed to review all but one of the 17 volumes that Vertical released. In between all that amazing medical work came the bizarre Swallowing the Earth. There were some titles I could have read but chose not too, like Ayako. I almost passed up on Book of Human Insects, but curiosity got the best of me, and I was sucked in.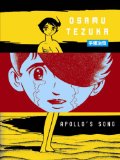 This week, I read Princess Knight Parts 1 and 2, and Apollo's Song. Princess Knight was a title I was looking forward to, and was glad to get a hold of the volumes before the MMF. I loved this series. It was a lot of fun and made a great fairy tale of a modern world. In stark contrast to this series, I then read Apollo's Song. This isn't the first time I've read this title, or tried to review it. My first attempt just left me with a bunch of jumbled thoughts that I couldn't get to come together. Hopefully this second attempt will be better. I really didn't like Apollo's Song as much of most of the other Tezuka titles I've read. I'll try to get my thoughts out to explain why.
In between these two titles, I squeezed in a new Viz title, The Earl and the Fairy. I remember when the anime for this series was announced, and at the time, the premise didn't sound too interesting. But I was still intrigued enough to want to read the manga. And I am glad I did. The story was fascinating, and I really liked the characters. I look forward to reviewing this title and reading more.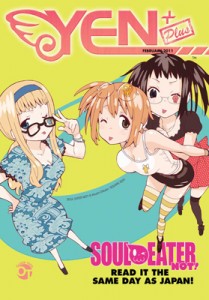 I also read the latest issue of Yen Plus. I think I'm going to be skipping Witch and Wizard. As much as like Sveltlana's artwork, the story is just too melodramatic for me. And I hate stories with villains who seem to be so powerful and without any kind of flaw. I'm hoping Infernal Devices starts going somewhere. It's not nearly as fun or exciting as Soulless. I do like Soul Eater Not more than Soul Eater, and it's nice that Yen Press has been able to get on simultaneous release with Japan, but the Japanese side has again become woefully small. As in, Soul Eater Not is the ONLY title on the Japanese side. It would be nice to get some symmetry back.
For the next week, I'm going to get back on my catch-up reading. I'm going to work on another Tokyopop title, one that was sadly never completed. Dazzle is a title I picked up on some recommendation I read, and did enjoy the first 4 volumes that I read. The interaction of the main characters reminded me a lot of Saiyuki. But it went on a long release schedule, so it kind of fell to the weigh-side for me. But I have gradually picked the remaining volumes, and just recently got the final volume Tokyopop released, though sadly not the final volume in the series, number 10. So I'll be finished up this series this week.
Princess Knight Part 1-2
Apollo's Song
The Earl and the Fairy Volume 1
Yen Plus February 2012