Toshiko Tomura is a genius; she has already been an established international stage actress, and up-and-coming architect, and an award as Japan's best new writer. Toshiko is also the mastermind behind a series of murders. The ultimate mimic, she has plagiarized, blackmailed, stolen and replicated the works of scores of talents. And now as her star is rising within the world of the elites and powerful she has amassed a long list of enemies frustrated by the fact that she has built critical and financial acclaim for nothing more than copying others' work. Neglected as a child, she is challenging the concepts of gender inequality while unleashing her loneliness upon the world as she climbs the social ladder one body at a time.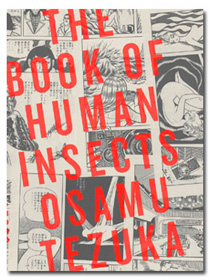 By Osamu Tezuka
Publisher: Vertical, Inc.
Age Rating: 16+
Genre: Thriller
Price: $21.95
Rating:





I wasn't going to read this title. It seemed to have all the hallmarks of being another MW, and I've had quite enough of that. But I started paging through it, and as should be expected, got sucked into the story, and had to read it from the beginning. While it has some superficial similarities to MW, I was relieved to find the story and protagonist Toshiko, is really very different.
On the surface, Yuki from MW and Toshiko do seem to have a lot in common. They are both sociopaths that use anything or anyone to get their way. They have their own agenda and will kill anyone that stands in their way, showing no remorse. But just below the surface lies the one thing that makes a big difference between these two; their motivations. Yuki didn't start out as a sociopath. Circumstances beyond his control helped to make him into the monster he eventually became. The effects of the poison gas and disregard for life made him into a killer. Toshiko was born with her abilities and used them to their fullest. She does not kill for the pleasure of seeing someone die. She kills those who could be of a threat to her. She does it out of a perverse sense of survival. The contrast of Yuki and Toshiko could be framed in the nature vs nurture argument. Yuki is a product of his environment while Toshiko is an example of survival of the fittest. I like to use the analogy of Godzilla. Yuki is 1954 Godzilla, a man-made monster who turns on his creators. Toshiko is Heisei/1990's Godzilla, a force of nature who doesn't hold any real malice toward anyone, but is just doing what she must to survive.
And surviving is what Toshiko does best. Even though insects are used as the analogy for Toshiko's abilities, it really looks like evolution to me. She goes into a new environment, adapts to it, and uses her new skills to move on to a new environment. Her acting skills allows her to blend into any social situation. Her time married to the CEO taught her to be shrewd and calculating in her inevitable destruction of him, though for a while it seemed that she had met her match in him. But nothing is taboo to Toshiko. She will do anything and everything to make sure she stays on top. She is the ultimate survivor, and as a result is the least human.
But even Toshiko has a kink in her armor. That kink is Mizuno, the designer she stole a design from. His story becomes a counter balance to Toshiko's, as he struggles in the wake of Toshiko's betrayal. He is the most human character just as Toshiko is the least. Instead of doing whatever it takes to move ahead, Mizuno accepts his the low paying job he has to take, and marries a woman who looks like Toshiko on the outside, but is nothing like her on the inside. But Mizuno truly loves her, and proves it by throwing away his life to avenge her, something Toshiko could probably never understand. Toshiko is portrayed as not needing anyone, but at the end, we get a glimpse that she isn't completely invulnerable to feelings as the news of Mizuno's fate seems to upset her. Even though she seems unable to show it, Mizuno may have really gotten to her.
The Book of Human Insects is another great thriller from Osamu Tezuka. The story was much easier to read than MW, as it was not anywhere as disturbing or outrageous. Toshiko was a much more sympathetic character than Yuki, especially at the end. She never appears to kill out of pure folly, and only does so to protect herself. She truly is an embodiment of nature; taking what she needs to live, and only killing to protect herself and survive. Definitely pick this volume up if you get the chance. The cat and mouse between Toshiko and Kamaishi, the steel executive, is worth it in and of itself, but the whole volume is a compelling read.