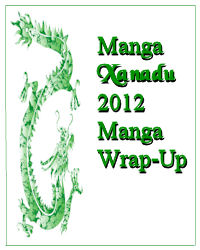 "Manga wrap-up, manga wrap-up
Let's finish up these series
Manga wrap-up, manga wrap-up
Cause there's no more room in here!"
"Manga wrap-up, manga wrap-up
Let's finish up these series
Manga wrap-up, manga wrap-up
Cause there's no more room in here!"
"Cause there's no more room in here!"
Hey! Welcome to my first post of the new year chronicling my attempt to catch up on all the titles I've fallen behind on and may even give away! I even have a theme song! (Bronies will recognize the tune. I blame my youngest daughter for its creation. 🙂 ) Anyway, this first week didn't go quite the way I had planned, but that should come as no surprise.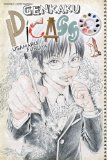 I started 2012 by preparing for the January Manga Movable Feast. This month features the works of Usamaru Furuya. I've been saving Genkaku Picasso for this and finally read volume 1. I will have to get 2-3 now. I really liked it. Too bad it's not available digitally, but at only 3 volumes it won't be so hard to fit on the shelf. I hadn't planned on reading Furuya's version of No Longer Human from Vertical, but I decided it wouldn't hurt to check out the first volume. I flew through that one, as well as volume 2. I really didn't think I would like it, as I don't care much for "classics", this one was a compelling read, and well worth the time.
Also not on the long-term reading list, but still a volume I've had for several months, I read volume 4 of Degenki Daisy. It s a series I like, but since it's available digitally, I'm going to move it over to that realm as a space saver. I'm not sure how much of a re-read it will be, so going digital with it is probably the best option. Volume 4 will be my last physical copy. If Viz has another good sale, I'll probably replace 1-4 as well.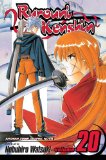 It took me until Friday night to finally get into the pile I want to work on. I picked up Rurouni Kenshin, but it had been soooo long since I read it, I wasn't sure what volume I had stopped on. I know I had finished the Kyoto arc and was starting on the final. I ended up re-reading volumes 18 and 19 before determining volume 20 is where I want to start. I finally got to that Saturday afternoon.
I knew this was going to be a long, uphill battle. With so many other books to distract me, it might be harder than I anticipated to get through this pile. But I am determined to do it. As my new theme song says, there is no more space. So, the final tally for the week is:
No Longer Human v1-2
Genkaku Picasso v1
Degenki Daisy v4
Rurouni Kenshin v18-20
Check back next week to see how far I get with Kenshin. Only 7 more to go, in this series.