Mafuyu is heading home for the weekend to get some much-needed TLC. But neither her mom nor her hometown seem to be in the mood for a warm welcome. Trying to walk off the weird feelings, Mafuyu and some of her old East High comrades are caught in a trap set by the gang from West High! Can she help her former friends without compromising her fresh start?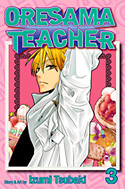 By Izumi Tsubaki
Publisher: Viz Media – Shojo Beat
Age Rating: Teen
Genre: Romantic Comedy
Price: $9.99
ISBN: 1-4215-3865-2
Rating:





The progress that was starting to be made in volume 2 gets eroded away at by a couple of manga tropes. The volume ends up being uneven as a good beginning is weighed down by a meh end.
This volume starts out by giving us a glimpse at Mafuyu's past when she goes home for the weekend and meets up with her old gang. They are caught up in a rivalry with another school over turf. We meet Mafuyu's former second and third, who are now the bancho and second. I liked Kohei, the current bancho. He really looks up to Mafuyu, but not quite the idolizing that Hayasaka does. He might even have feelings for her. Yuto, Kohei's second, I didn't care for quite as much. He a total masochist, always putting himself into positions to get hit by Mafuyu, and fantasizing about it. I found his character just a little too stereotypical.
The whole story with the gang was good. The boys push Mafuyu away as they prepare for a big fight, and she has to come to terms with the fact that they have moved on and don't need her anymore. I liked that the gang was still fumbling some as they filled the whole Mafuyu left, and that the reason they pushed her away wasn't just to stand on their own. Kohei's inability to express his feelings for Mafuyu was just as responsible. The scene at the train station at the end was sweet.
Sadly, the rest of the volume couldn't keep up with the beginning. The volume ends with two stories featuring Takeomi and introduces another new character, Student Council President Miyabi. Takeomi's story is a big shojo trope, with Mafuyu discovering that he is her next door neighbor. The story really could have done without this. I didn't like Miyabi either. He almost ties with Takeomi in my dislike for him. There is nothing interesting about him. He's about as cliché as you can get, being the son of the School President, enjoying being evil, and has a "power" to dazzle anyone into becoming his slave. I really found his "power" to be outrageous, and not really fitting with rest of the series.
I was starting to feel good about Oresama Teacher after volume 2 and really hoped it could keep up the momentum. But the second half of this volume really puts on the brakes and has me thinking I may have been right after the first volume, and the second was just a fluke. I'll give the series one more volume to convince me.