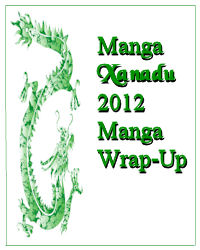 Week two ends on a better note than last week. After so much talk, I finally finished reading Rurouni Kenshin. I can't really say I cared much for the last arc. I liked all the flashback scenes and Watsuki did a good job of balancing it's telling with the present. But there was so much fighting, and lot of it seemed pointless. The big battle with Enishi and his "allies" was just to show how powerful everyone had grown over the series. And the battle against the 4 Stars felt like it was just filler. The ending did tie up everything nicely. I liked that everyone went their separate ways, following their own paths instead of staying together in Tokyo. I was glad to see some hope for resolution for Enishi as well. That is one of the things I liked about the series overall. There was feeling of hope and redemption all the way through the series. Kenshin never gave up one anyone, and redemption was always in reach, if one chose to reach for it.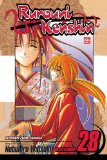 The ending did have a cliché feeling to it, especially with Kenshin and Kaoru's son Kenji being such a crybaby, mama's boy, the exact opposite of Kenshin. It wasn't bad, it just felt meh. But I like Watsuki's suggestion for a sequel even less. I would rather like to see Kenji and Yahiko and Tsubame's son fighting together as buddies but competitive rather than against each other.
Overall, Rurouni Kenshin is a great series and really deserves the praise it has gotten. I think the first volumes and the Tokyo arc are the strongest of the series. At least, they are the volumes I enjoyed the most. The light humor was more prevalent in these volumes. I don't mind the darker elements that were introduced as the series progressed, especially since the series still ended on a happy note, but I do like the lighter elements more.
Rurouni Kenshin Volume 21-28
Next up, I'll be starting the Tokyopop series Bizenghast volume 1-7. I've only read the first volume of this series, and it was several years ago, so I'll be starting back at the beginning.