Troublemaking student council chairman Hanabusa thinks the best way to solve the problem of two similar clubs at school is to have them fight to the death! Actually, the losers just have to disband their club. But a silly club rivalry quickly gets out of hand when Mafuyu is kidnapped by the enemy!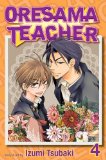 By Izumi Tsubaki
Publisher: Viz Media – Shojo Beat
Age Rating: Teen
Genre: Romantic Comedy
Price: $9.99
ISBN: ISBN: 1-4215-3866-0
Rating:





Oresama Teacher succeeds in turning out another uneven volume. A fun chapter is sandwiched between two less-interesting ones. Even though the first chapter does have some good moments, they aren't enough to tip the balance completely.
Mafuyu and Hasakaya, as the new formed "Public Morals" Club goes up against the Yojimbo Club, as their charters claim to do the same thing. This chapter sees the return of Nastuo-Mafuyu, as she tries to get Hakasaya to learn to dodge hits in a fight. While I didn't care very much for these chapters, they did have their moments. Hakasaya and Nastuo-Mafuyu have a good heart-to-heart talk, and Mafuyu comes to understand Hakasaya better. It was nice to see Hakasaya show that he cares about Mafuyu, even if it means doing something dumb. But that's what we expect from the good guys, right?
Yuto, the second from Mafuyu's old gang comes to visit Mafuyu and deliver some treats made by them. He meets up with Hakasaya and the Bancho, and they try to find Mafuyu, and consequently miss each other for pretty much the entire story. What was really funny was the misunderstandings that went on between Yuto and Hakasaya and Bancho over who Mafuyu really was. Yuto has all of his memories of Mafuyu (slightly rose-tinted) as a demon fighter, while Hakasaya and Bancho think of her as a weak girl. The chapters were funny and the best of the chapter.
The volume ends with Takeomi needed to blow off steam from work, and drags Mafuyu off to the beach with him. This chapter felt rather odd to me. If this is supposed to be a teacher/student relationship story, it's going at it in a really strange way. Takeomi and Mafuyu looked more like friends, or even siblings. I didn't feel any kind of connection between them beyond their past. I'm still not sure what to think about Mafuyu's missing memories of Takeomi.
I'm still teetering on the fence with this series. It has shown it can be a really funny series, but only if it can keep the focus on the students and their relationships. I still really enjoy Mafuyu and Hakasaya's relations, and Bancho needs more page time with Mafuyu. I still detest Takeomi. He still doesn't seem to have a good reason to become a teacher. He's still too much of a delinquent to be an interesting character for me. The other "villains" in this series, such as the Student Council President is the same. So, the good and bad points of Oresama Teacher are about even at this point, but it's still not a series I want to keep or re-read.