Momoka Sendou (nicknamed "Dragon Girl") and Ryuga Kou are childhood friends. Momoka is a martial artist, and Ryuga is a Chinese magic master who banishes demons. In order to increase his power, Ryuga calls on the spirit of a dragon to possess him, but the spirit enters Momoka instead. Now the two must unite forces and fight demons together!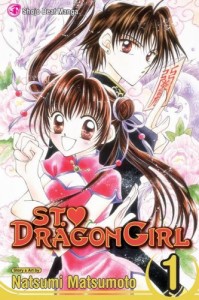 By Natsumi Matsumoto
Publisher: Viz Media – Shojo Beat
Age Rating: Teen
Genre: Romance
Price: $9.99
Rating:





St. Dragon Girl is a title that has two things going for it. Dragons and a couple that denies their feelings for each other. While the second thing is a bit of a trope for shojo titles, I can't help having a soft spot for their kind of relationship; the childhood friends who tease, bait and strike back.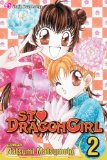 The female lead of this story, Momoka, has a lot of tomboy traits. Her father is the head of a kenpo dojo, so she is constantly practicing, and is even an instructor. She will take on anyone who threatens her friends, spirits and demons, and even teachers! But she has one weakness; pandas. Ever since she received a stuffed panda as gift from Ryuga, she has loved them, and Ryuga as well. Momoka knows how she feels about Ryuga, but doesn't want to tell him, thinking he'll tease her and not return her feelings.
Ryuga, the male lead, comes from a family of Chinese magic masters, and is gifted in the arts as well. He is often being asked to tell fortunes, perform prayers or make charms. Where Momoka is more gung-ho and charging into a situation without thinking, Ryuga is the calm, thoughtful one. He is always having to protect his cousin Shuran, a gifted psychic that demons are always coming after. He comes to Momoka's rescue as well, usually when her thoughtless gets her in over her head. He is constantly teasing Momoka, which can get him a fist or kick to the face, but he can sometimes counter with his spell Paper Army Formation made up of pandas. Ryuga can be serious at times, letting slip little comments that can be interpreted as his having feelings for Momoka too, but he usually denies them, or changes their meaning by the end of the chapter, to keep her from learning the truth; that he really does love her too.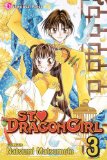 And since they continue to deny their feelings, this leaves rooms for rivals for their affections to step in. Momoka get the most, starting with Ryuga's cousin Kouryu, who tries to kidnap Momoka and take her back to China. He's arrogant and egotistical, and I still didn't like him ever after the explanation of his back story. Touya is another boy who has a crush on Momoka, but turns out to have a deeper secret. He ends up hanging around though, as thorn in Ryuga side. Even Saint Dragon, the dragon possessing Momoka has him moment of infatuation, but it doesn't last. It doesn't stop Ryuga from still feeling jealous.
Ryuga has his suitors as well. Raika is a distant relative of Ryuga's who wants to be his fiance. She ends up being friends with Momoka after she realizes the truth of Ryuga's feelings for her. Akira is another new member of the Kendo club. She is a Onmyouji, as well as a competitor for Ryuga's affections, though he doesn't really acknowledge her beyond being a friend. She likes to use her magic to take over Momoka's body and make it move to her will.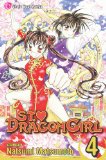 While I really like the ensemble of characters that have gathered through these five volumes, it's the mythical creatures that keep appearing that really won me over. I love the dragons, and they are drawn so gorgeously and with such care! There's also a phoenix that appears that is cute in human form, and beautiful in bird form, and a mermaid and cat demons. The variety of beasts is great and just as entertaining as the characters!
The stories are mostly stand alone at the beginning, and are fairly light. They mostly involve demons coming after Shuran, or school activities such as Kendo club or the school festival. As the series goes on though, it does start to get more serious and move into longer stories lasting more than one chapter, but Ryuga and Momoka's relationship remains on the teeter-totter of admitting/denying their feelings.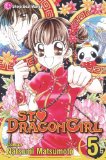 St. Dragon Girl is a fairly light and fun romance. Matsumoto's artwork is beautiful to look at (especially the dragons), and she uses a lot of great Chinese costuming, making the series another plus in my book. There is next to no drama, and the comedy is well-timed with the more serious moments. I can't think of a single complaint I have about this series. Even the constant denial of the leads doesn't bother me, but they have great chemistry, it wouldn't matter to me if they ever got together or not. While the series is rated for teens, tweens will enjoy this series as well. Definitely read this series if you get the chance.