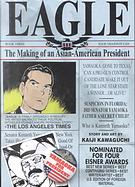 Eagle: The Making of an Asian-American President Volume 3

by Kaiji Kawaguchi
Publisher: Viz Comics
Genre: Drama/Politics
Age Rating: Teen+ (16+)
Price: $19.95/used
Rating:





Volume 3 picks up where Volume 2 left off, at the New York debate, with every waiting with baited breath for Yamaoka's answer to Noah's accusation of waffling on an environmental issue.  It is here that we see how much of a work of fiction this title can be.  Yamaoka gives a straightforward and honest answer.  He is human and made a mistake.  There is no way any politician that was looking to get votes would ever give an answer like this.  But, with Yamaoka being our protagonist, he not only gets away with it, but turns the tables on Noah, and wins not just the debate, but the primary.  Now the next big hurdle he must overcome is Texas.  In order to win in Texas, he must win over Don Taylor, a democrat in charge of a large food corporation who holds sway over most of the farmers and ranchers not just in Texas, but in most of the South.  But it won't be easy, as Taylor doesn't believe either Yamaoka or Noah has a chance of winning against the prospective Republican candidate, and won't support either.  Yamaoka's got to change his mind.
Continue reading Eagle: The 2008 Election Edition Volume 3 →