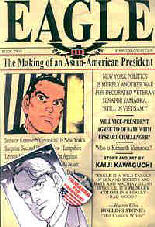 Eagle : The Making of an Asian-American President Volume 2

By Kaiji Kawaguchi
Publisher: Viz Media
Genre: Drama/Politics
Rating: Teen+ (16+)
Price: $19.99/used only
Rating:





In this second volume of Kenneth Yamaoka's campaign to be come president, more time is spent on his past, and what could have make him the person he is now. The politics takes a backseat for the first third of the volume as Takashi meets with Yamaoka's sister, getting a touching, sentimental image of the Senator. Yamaoka quickly squashes that image with stories from Viet Nam. Takashi's doubts about Yamaoka killing his mother return. The importance of family starts to become a major theme with this volume, as Takashi struggles to figure out how he fits in. He has strong feelings for Rachel, and finds common ground with Alex, but Yamaoka's intentions are still a mystery.
The majority of the politics that we see in this volume is about backdoor deals. Gilbert Blackburn, Mayor of New York City suddenly makes an appearance in Denver, the site of on of the primaries for "Junior Tuesday". There wasn't a Super Tuesday yet. There are only eight states in this one, the majority being in the Northeast. News reports make New York the next big primary battleground, so getting the support of the Mayor of New York is pivotal to both Yamaoka and Noah. Yamaoka needs the endorsement, and Noah believes that he can kill Yamaoka's chances by stealing the his home state from him. It becomes a race then, as both campaigns try to court Blackburn and figure out what he really wants.
After "Junior Tuesday", Yamaoka becomes in second to Noah, narrowing his lead. Noah must now acknowledge Yamaoka as a threat, and the first debate of the primary season is scheduled. This relates somewhat to what we've been seeing this year with Obama slowly but surely building up his support, and after Super Tuesday, showing Hillary Clinton that he would be a force to be reckoned with. Yamaoka prepares for the debate, with his staffers throwing likely questions at him, but they underestimate Noah. In the debate Noah leads Yamaoka into a question of ethics and trust that no one saw coming, and the volume ends on the cliffhanger of wondering how Yamaoka gets out of this one.
The politics we see in this volume is behind the scenes, and not something we see in RL, but that we are sure it going on. Politicians with more power dangling morsels to those with lesser power and expecting them to bite. Blackburn keeps both Noah and Yamaoka guessing, with both trying different lures to reel him in. But Blackburn isn't a rookie that will bite at anything. He knows what he wants and he bides his time to get it. He even feels he gets a little payback on Yamaoka, making him squirm as he felt Yamaoka did to him a few years earlier.
This volume also introduces another theme that will surely become more prominent later in the series; race. It isn't Yamaoka's race that's the issue. Racial tensions in New Orleans explodes with a video of some white policemen beating a black teenager. The racial problems in this country are no secret, and though it's just used as a plot device in this volume, I can see it slowly creeping to the forefront. Today, there are lots of questions about a black man winning a campaign nationwide. It was Hillary Clinton's cry at the end. "Why can't Obama close the deal?" was heard after he was unable to win traditionally white, blue collar states. No one wants to state the obvious, but his race was and is an issue for a lot of people. As this race goes on, I think we will start to see the same kind of prejudice toward Yamaoka showing up.
Everything up to now has just been preliminaries for the battles to come. The pieces are in place, and most of Yamaoka's past has been revealed, though there is still more to learn from Patricia, his wife. Yamaoka's direction is clear, but even after two volumes, his motives are not. Hints have been dropped, but I'm not comfortable enough to come to a conclusion yet. Hopefully the next volume will start clearing things up.