"On the Twelfth Day of Christmas, my true love gave to me, Twelve Ecliptic Zodiac Keys,"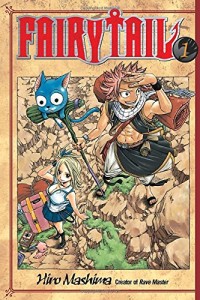 Lucy Heartphilia has always dreamt of joining the  guild of mages known as Fairy Tail.  While searching for the guild, she meets up with Natsu Dragonil and Happy, a blue talking cat.  They are both members of Fairy Tail, though Lucy doesn't know it at first.  They have a few adventures together, where Lucy shows him her magic.  She is a Stellar Spirit practitioner.  She collects keys that allow her to summon spirits from another world and make contracts with them.  The rarest of these keys are the gold Ecliptic Zodiac keys.  At the start, Lucy already has two; Aquarius and Taurus.  Natsu then invites Lucy to join the Fairy Tail guild, where the two are often paired together for assignments.
Fairy Tail is a new series this year, and one I was hooked on from the first volume.  It's a great action adventure title with lots of comedy as well.  Natsu is very much like Luffy or Goku.  He doesn't care about a lot of things, but the things that he does, he cares a lot.  Lucy is very outgoing and determined.  The spirits she contracts with in her keys can be pretty entertaining too, talking back, and even refusing to help without some concession from Lucy.  Of course, having a blue talking cat that can grow wings and the promise of dragons doesn't hurt either.  I really enjoyed this title and it's quickly become a must have.  If you like stories with fun, action and adventure, then Fairy Tail is the one title you must get!
"Eleven Band Member Battle,
Ten Inukami,
Nine-tailed Fox Spirit,
Eight Dragon Priestess Guardians,
Seven Dragon Balls,
Six Girl Volleyball Team,
Five Bronze Saints!
Four Friends in Winter,
Three Siblings Cards,
Two Girls named Nana,
And a One Piece for the Pirate King."
MERRY

CHRISTMAS!