The Seishu Gakuen baseball team is one win away from fulfilling Wakaba's final dream of seeing Ko pitch in front of a packed crowd at Koshien. But they'll have to beat powerhouse Ryuou Gakuin in the North Tokyo Tournament finals in order to get there. Meanwhile, Akane Takigawa's health takes a turn for the worse, and she's scheduled to have surgery…on the day of the big game.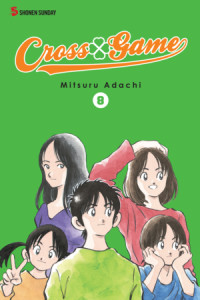 By Mitsurs Adachi
Publisher: Viz Media
Age Rating: Teen
Genre: Sports
Price: $14.99US
Rating:





When Cross Game first came out, it got a lot of praise. It was also featured in a Manga Movable Feast, but the first chapter preview Viz made available didn't interest me. So, I passed on the series, until I received a copy of the final volume. I decided to give the series a shot and see what everyone was so excited about. I did enjoy the volume. It was easy to  get into, even with being the final volume, but ultimately it still didn't make a convert out of me.
This volume starts out with Ko and the Seishu Gakuen baseball team departing to play the final game that will decide who will go to Koshien. Any potential drama with Akane's health problems are swiftly dealt with so the characters and the reader can concentrate on the game which is the majority of this 2-in-1 omnibus volume. It is a very tense game, as both pitchers are determined to pitch a no-hitter. The sides switch quickly, and the few hits that do get through puts the game into extra innings, with the twelfth ending it all.
In many ways this feels like a final volume. Everything the characters have been working for is leading up to this moment, this game. As the game is played, there are call backs to previous moments in the series with Ko dealing with Wakaba's death, and working to become a baseball player good enough to go to Koshien. Ko and Aoba's relationship is also strengthen throughout this volume, tying things up for the last scene.
While there are a lot of characters, and many of their stories are tied up, this volume is really all about Ko. This final game is his. He goes into it with a calm confidence that many of his teammates don't seem to feel. He is relaxed before the game, sleeping on the way to the stadium, and all through the game itself, he never seems fazed. He doesn't get mad when his no-hit game is ruined, and his only surprise is when a ball flies at only 98 mph, not the 100 mph he had hoped for. It almost makes you want to shake him, he is so placid throughout the game, like a still lake. This is a moment he has worked for since he was in the 5th grade, and he will let nothing stand in his way.
The game itself isn't filled with over-the-top dramatics. Adachi doesn't need to go to such lengths to build the tension. His game is filled with great baseball, and helped to remind me why I loved the sport so much when I was younger. Compared to other sports, baseball can seem laid back or even boring, but there is nothing boring about this game. Both teams can taste victory and are determined to win. Ko and his rival Oikawa are throwing their best pitches, both intent on throwing no-hitters. The balls fly fast and hard, and you can almost hear the ball hitting the catcher's mitt with every pitch. It's not an "edge of your seat" kind of excitement, but really a thrill of watching athletes at the top of their form pushing themselves even further.
Ko and Aoba's relationship is handled much more subtly. Things that the readers probably already knew were revealed to the characters. Ko and Aoba never verbally express their feelings for each other. They don't have that kind of relationship. Instead, they're shown in a more subdued manner with something as simple as holding hands revealing their feelings more elegantly than any words could.
Although I enjoyed this volume of Cross Game as a whole, and really enjoyed the baseball game, I don't know how much I would have enjoyed the journey. It's easy to tell where Ko and Aoba came from and what it was they were striving for, but I don't know how much I actually like them as characters. They do have the more contrary type of relationship that I prefer, but they didn't really click with me. I appreciated Ko as a baseball player, and seeing he and Aoba get together, but I'm not sure I would have had the patience to get to there. I may the first volume though, just to see. Still Cross Game has all the elements to be a great series, and the sports parts is very well done. It was a great game, and a really good series. I'm glad I got to read it.
 Review copy provided by publisher