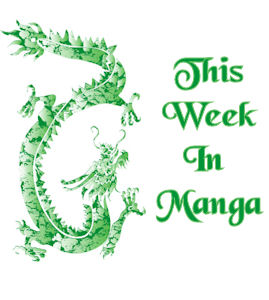 Have We Lost Our Soul?
Monday started out with a bang as new spread quickly on twitter and then the blogs that Go! Comi's website had expired. Gia Manry of Anime Briefs caught the expiration first, and attempted to contact someone through voice, but couldn't get ahold of anyone. No official word has come back from any reps of the company, which doesn't bode well for its future. The speculation that the manga company for sale in Southern California was Go! Comi gets stronger by the minute. Even though this news wasn't all that surprising, it is still a bit of a shock, and I hope there are some publishers out there willing to "troll" the Go! Comi licenses and give us some hope of seeing them through to the end. Jus don't look to Yen Press for that.
Another Tremor in the Manga Market
And the news didn't improve any on Tuesday, as Publishers Weekly broke the news that Viz Media had laid off 60 employees, or 40% of their total. The Doomsayers didn't come out for this, but there was a lot of worry for the Signature/Ikki line, since it's not a cash cow in regards to sales. Viz later posted on their blog that the layoffs were a part of a company restructuring, and that no titles were in danger of being cancelled. They must have gotten a lot of worried inquiries in order to post a message like that. It's good to hear that none of our favorite titles will be going away anytime soon, but also sad that so many people had to lose their jobs. Here's wishing them well and that they find new work soon.
The Path to Hell…
David Welsh of The Manga Curmudgeon writes about an email he received advocating a "new" way to get manga piracy sites shut down; tell the site advertisers that the site has child p_rn on it. While I'm sure the person/persons who came up with this approach had good intentions in wanting to stop the pirates and help manga publishers, I have to say it's a terrible idea. I'm in complete agreement with David when he says this approach will demonize the content, which is the last thing we need. Manga and anime are still fighting the perception that is filled things bad for children to read (see next story), so we don't need actual "fans" adding to that bad image. Publishers need to do the work to stop these sites from putting up their rightful content, and they don't need this kind of "help" which would very likely backfire and make their product nearly impossible to shelf and sell since the perception will be that manga is for child p_orn.
Death Note:1 Book Banners:0
ANN reports on the results of an attempt to ban the manga Death Note from high schools in the Albuquerque Public School District. In short, a parent complained about the death in Death Note, going so far as to compare it to the Columbine shooting. This is a clear example of a parent either not reading or understanding what the title is about.  There is not comparison between the two. Death Note is about justice and morality. Just who should get to decide who lives and who dies. Columbine was revenge. Death Note can get a kid thinking about things they probably never thought about before with respect to justice, and the death penalty, which as an adult they will have to deal with as a voter and juror. These are things that can't be taught. But if presented properly can get the wheels turning so one can come to their own decision. That is the value of a series like Death Note.
Did You Remember to Call?
Sunday was Mother's Day. Did you remember to call your mother and wish her a happy day? She could be lying on the floor of the kitchen right now, unable to get help and you would never know… Jason Yadao remembered Mother's Day by giving a list of mothers in manga. While I didn't do it this year, the previous two years I did posts about moms in manga as well. Jason hits a lot of moms I didn't so check out all the lists for some great moms in manga. And for goodness sake, call your Mother. She's worried about you.
NYT Best Seller List
Despite of, or maybe because of, Viz holds the 8 of the 10 slots again this week, and the biggest shock of it, Naruto is nowhere to be found on it! Let's start off with checking in on Twilight in the Hardcover list. Is it back at #1? You betcha! Over in manga, Black Bird vol 4 holds the #1 slot, a book I wouldn't have thought would make or deserve it, but it does, on both counts. Otomen vol 6 takes the #2 slot with D. Gray-man vol 17 coming in at #3. One Piece vol 44 takes the #4 position, with the only Yen Press title, Yotsuba&! vol 8 taking #5. One Piece cuts its way through again with vols 46 and 45 at #6 and #7 respectively while last week's #1, Tsubasa vol 26, falls back to #8.  One Piece then finishes out the list with vols 47 and 48 taking #9 and #10 spots. It's another list of debuts, with Yotsuba&! and Tsubasa being the only titles to hold over from last week. All of the Viz titles are debuts. We'll see how long this will last though. One Piece never seems to last past the first release week, though it is good to see all five making the cut again. But with Yen Press' Black Butler coming out this week, I'm sure the #1 title next week will have Black in the title, it just won't be a bird.
This Week at Manga Village
What I'm Reading