I know it's a little late for Mother's Day, but as long as it's still May, I figure I can sneak this in.  Last year, I wrote a post about the roles moms can play in manga.  I picked out manga I had read and broke them down into categories; Mom affecting the characters, Mom as support, Mom's absence affecting the character, Mom's absence affecting the story.  I've read and/or more titles have come out that can be added to the list.
Mom affecting the characters – Moms can sometimes really drive their daughters nuts.  In Honey Hunt, Yura is dealing with her parents
divorce, but it's when she discovers that her mother Yukari, is sleeping with Shinsuke, their neighbor and Yura's friend, that she loses it.  She decides to show her mother, and everyone else, that she has some worth, and intends to be a better actress than her mother.  If Yukari wasn't so selfish and had been a real mother to Yura, she would never have turned to an entertainment career.  In some of the same vein, Miaki of Fushigi Yugi has to deal with a selfish mother as well.  She wants Miaki to go to the prestigious high school Jonan Academy, with little care for her daughter's own feelings.  The stress this causes in their relationship makes Miaki snap and sends her to the library and back into the book Universe of the 4 Gods.  Nobara of Crimson Hero feels some of these same pressures as her mother wants her to take over as hostess of the family's ryotei.  Nobara wants to play volley ball.  The pressure causes Nobara to move out on her own so she can continue to play.  This title also brings up a sub-category, the Crazy Aunt, as it's Nobara's aunt that helps her by sponsoring the Girl's Volleyball team.  All Nobara has to do is get players.
Mom's absence affecting the story – Mom's can have it hard in the mangaverse.  They often meet unpleasant or grizzly ends.  In Code Geass: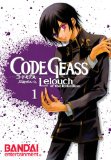 Lelouch of the Rebellion, Lelouch's mother is brutally assassinated.  This act sends him on a path of revenge for his mother's death, and to create a safe place for his sister Nunally, who was blinded and crippled in the assassination.  And the only way he thinks that can be done is by overthrowing the Britannia Empire and it's Emperor, his father.  In Fruits Basket, it's the most common way of dying in Japan (it seems).  Tohru's mother dies in a car accident.  To avoid being a burden to her grandfather, she goes to live in a tent in the forest.  It's there that she meets the Sohma family and becomes mixed up in their Chinese Zodiac curse.  But if you want really messed up moms, you can always rely on Kaori Yuki to give it to you.  In Godchild, Cain finds out this mother was actually his father's sister.  It's her insanity and then death that drives his father to do all the horrible things he does to Cain and create Delilah.  Or is it?  Read the story to find out for sure!
So, there you go.  More Moms in manga making a difference!