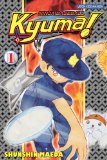 Ninja Baseball Kyuma Volume 1

By Shunshin Maeda
Publisher: Udon Entertainment
Age Rating: All Ages
Genre: Sports
Price: $7.99
Rating:





Kyuma and his dog Inui live in the mountains, where Kyuma trains every day to become a great ninja. But when Kyuma mistakes a baseball coach for his training master, the local baseball team ends up with its first ninja player! Can a ninja step up to the plate and learn how to play ball? Find out in Ninja Baseball Kyuma!
Boys love ninjas and baseball, so it seems only natural to put them together, right?  Fortunately, in this title, the combination works.  Thanks to some great characters, good stories and a lack of "ninja magic", Ninja Baseball Kyuma is a title anyone can read and enjoy.