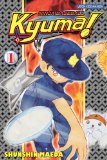 Ninja Baseball Kyuma Volume 1

By Shunshin Maeda
Publisher: Udon Entertainment
Age Rating: All Ages
Genre: Sports
Price: $7.99
Rating:





Kyuma and his dog Inui live in the mountains, where Kyuma trains every day to become a great ninja. But when Kyuma mistakes a baseball coach for his training master, the local baseball team ends up with its first ninja player! Can a ninja step up to the plate and learn how to play ball? Find out in Ninja Baseball Kyuma!
Boys love ninjas and baseball, so it seems only natural to put them together, right?  Fortunately, in this title, the combination works.  Thanks to some great characters, good stories and a lack of "ninja magic", Ninja Baseball Kyuma is a title anyone can read and enjoy.
Kyuma Hattori is a boy that has been living alone with his puppy Inui and training to be a ninja.  Kaoru is the captain of a local baseball team, the Moonstar City Club.  After losing to a team of older players, Kaoru goes searching for a player to help them win in their game, which will one of the teams the right to play on the field anytime they want.  Kyuma, who has been waiting for a message that he is needed, mistakes Kaoru's request to play with the team for it.  Even though he has no idea how to play baseball, he joins the game, making lots of mistakes along way.  But he never gives up, and it's finally his homerun hit that wins the game, and cements his place on the team.
The first thing that really impressed me about this title was the characters.  Starting with Kaoru, the Moonstar City Club is filled with several interesting and unique characters.  Kaoru, the responsible and dependable captain of the team is definitely my favorite.  He doesn't make any declarations of leadership, he just is.  His team mates look up to him and believe in him.  Calm and collected, even in the face of losing, he's always thinking of his team first, himself second.  Kyuma on the other hand, is more excitable and eager to please.  He plays off of Kaoru very well.  Kaoru is his "liege", and in his ninja minded way, tries to do what he says, which makes for some interesting problems.  In the second chapter, Kyuma is told to level the field.  He's meant to rake the dirt down, but Kyuma takes the order literally, and blows up the pitchers mound.  The rest of the team is made up of fun characters from the pitcher who's picky about the level of his mound to the fortune teller who plays for reasons unknown.
The stories themselves are just as entertaining as the characters.  Sports in and of themselves have their own built in drama.  It's what makes games exciting in the first place.  These stories use this to good effect, while at the same time incorporating lessons that some sports parents would just as well to learn as their kids.  Losing isn't the end of the world, the bonds of teamwork, and owning up to one's mistakes are all good values everyone, not just kids should learn and take to heart.  Sometimes the lessons are obvious, such as when the team loses in a practice game, and Kyuma takes it hard, or not so obvious, such as when Kaoru realizes Kyuma may be playing for the team under false pretenses he may have created.
The art is perfect for this title.  It's simple and clean.  Screen tone is used throughout, but to good effect.  It blends in with the art, making it not noticeable to the eye, just the way it should be used.
Overall, Ninja Baseball Kyuma is great title for kids.  Boys and the more tomboy-ish girls will love the sports and ninja action.  There's very little violence, with only a punch being thrown out of anger, and a swollen shoulder.  Ninja traps and some throwing stars thrown round off the list, but no one is hurt.  This is definitely a title to pull in the boys.  It's just a lot of fun.