Once Shinji didn't care about anything; then he found people to fight for–only to learn that he couldn't protect them, or keep those he let into his heart from going away. As mankind tilts on the brink of the apocalyptic Third Impact, human feelings are fault lines leading to destruction and just maybe, redemption and rebirth.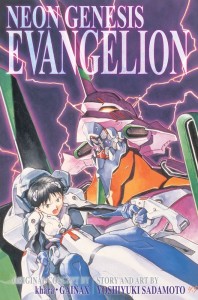 Neon Genesis Evangelion Volume 1-3
By Yoshiyuki Sadamoto
Publisher: Viz Media
Age Rating: Older Teen
Genre: Sci-Fi
Price: $19.99 USD
Neon Genesis Evangelion is an anime from the 1990s that defined a generation, and changed the mecha genre. I was never able to watch more than a few episodes of the anime, so I thought reading the manga adaptation would be a better way to go. Nope. My first instincts were correct. These first three volumes are slow and boring with a protagonist that you spend most of the time wanting to slap silly.