Mizuki Ashiya is no slouch when it comes to a challenge. She's a star of track and field at her high school, after all. So When she falls for fellow athlete Izumi Sano, she figures out an ingenious plan to get close to him. Now she's moved to Japan, enrolled in the all-male high school Sano goes to, and becomes his roommate! How? She's disguised herself as a boy! Whatever happens next, things are about to get seriously complicated!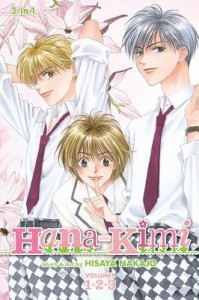 By Hisaya Nakajo
Publisher: Viz Media – Shojo Beat
Age Rating: Older Teen
Genre: Romantic comedy
Price: $14.99
Rating:





I've tended to avoid gender-bending, or cross-dressing titles, because on the whole, they haven't sounded interesting to me. A girl dressing up as a boy to go to the all-male school where her ideal mate goes seems prime for lots of comedy and hi-jinx, just not the type that I enjoy. Hana-Kimi really surprised me. It plays the comedy aspect well, but it's not the focus of the story. It's really about the characters and the love triangle the is created by Mizuki's presence.
I really liked the characters in this story. Mizuki Ashiya is very earnest about just wanting to see Izumi Sano do the high jump in person. She isn't clumsy or dizty, though she does get a little emotional for the boy she's supposed to be. I liked that she didn't go into this already having feelings for Sano, and that her feelings grow slowly from wanting to be friends with him to wanting to always be with him. It was a very natural progression. It's obvious that Mizuki thought things through before coming to the school and had reasons why she couldn't do some things, like swimming, so her excuses didn't sound half-hazard or unlikely.
Izumi Sano is the sullen, quiet type. It takes some time for him to warm up to Mizuki, and then he figures out she's a girl, and things take a turn for him. He doesn't turn her in, but instead starts to work at doing the high jump again. He almost never lets on to her that he knows, but he becomes very protective of her. I like how he continues to relate to her like she's a boy, but inside has to struggle with his own growing feelings for her. Shoichi Nakatsu is very much the comedy relief and third side to this love triangle, even if he doesn't completely realize it yet. He was immediately attracted to Mizuki, but has not idea that "he" is a she. He feels a lot of confusion over it, and even starts to wonder if he might not be gay. This struggle is handled humorously, and made more funny to the reader because we know he's not.
Rounding out the supporting cast is Doctor Umeda, who works in the school infirmary and really is a gay man. He knows Mizuki's secret, as does his sister, Io, both of whom have promised to keep it. Minami Nanba, Mizuki's Dorm R.A., is Umeda's nephew and a ladies man who doesn't know her secret. Kagurazaka is Sano's rival in the high jump, and starts out being very obnoxious, but turns out to be not so bad, just very needling. I really like the entire cast of the series. They are all fun and interesting to follow.
The many of the stories are typical of a cross-dressing and high school title. Mizuki is constantly getting into situations where she could be found out, such as with Doctor Umeda and her brother coming to visit her. She is bullied for becoming the school's new "idol", and is asked for advise by a potential rival for Sano's affection. But despite how common place a lot of the story lines have become, they didn't feel that way here. I enjoyed all of the chapters, probably because there isn't a lot going that seems unreasonable or over the top. So many of the characters reactions seem plausible and reasonable that it's easy to believe they could happen. Nakatsu thinking he gay for being attracted to Mizuki, other people thinking Sano is gay for his overprotectiveness towards Mizuki after he learns her secret. Io pointing out to Mizuki she's not going to be able to keep the charade for long as body matures. These things gave the story a ring of reality to it, making it so much more enjoy.
I found Hana-Kimi to a charming series so far. I really enjoyed the characters and the stories were fun, and for the most part, light. It does have its serious moments, and towards the end the of third volume it got a little dramatic, but not enough to change the tone of the series. The humor still prevails overall. I also liked how the issues of homosexuality were used and portrayed. It isn't ignored or glossed over. Mizuki gets very upset when some boys say Sano must be for like her, and Dr. Umeda is very open and honest about his preference. The characters reactions rang true to me. I hope Viz continues to put out these omnibus editions. It was easy to hold and read and it a great price point. I can't wait for the next volume!