Shinmen Takezo is destined to become the legendary sword-saint, Miyamoto Musashi-perhaps the most renowned samurai of all time. For Takezo is a cold-hearted killer, who will take on anyone in mortal combat to make a name for himself. This is the journey of a wild young brute who strives to read enlightenment by way of the sword-fighting on the edge of death.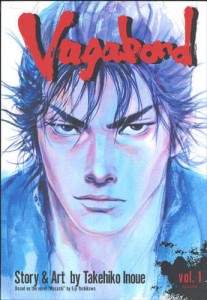 By Takehiko Inoue; Based on the novel "Musashi" by Eiji Yoshikawa
Publisher: Viz Media/Viz Signature
Age Rating: Mature
Genre: Historical
Price: $12.95
Rating:





I've heard a lot of good things about Takehiko Inoue's Vagabond. I had read an excerpt of it a few years ago in a Viz Signature sampler I got at SDCC, but it didn't really interest me then. Based on recommendations however, I picked up volume 1 to see what everyone was talking about. It's filled with a lot of great action and drama, but I think I have to go with my original reaction and say this is not a series for me.
Vagabond starts out at the end of the battle of Sekigahara, a pivotal battle in Japanese history that gave the Tokugawa control of the shogunate. Shinmen Takezo and his childhood friend Hon'iden Matahachi, seventeen-year-olds looking to make a name for themselves, have somehow survived. Wounded, they search for shelter to recover while being chased by Refuge Hunters. They are found by a woman, Oko, and her daughter living alone in the mountains. Takezo kills the leader of a band of robbers who harass Oko, but it's Matahachi who takes her and runs off, leaving Takezo with the responsibility of telling Matahachi's mother and fiancée of his decision.
I'm not quite sure what I was looking for in this first volume, but I felt ambivalent through most of it. Takezo's journey doesn't have to auspicious a start. He somehow survives the battle at Sekigahara, including nearly being trampled by several horsemen. He fights off Refuge hunters and a band of thieves, ends up being deserted by Matahachi and betrayed by that Matahachi's mother when he goes to tell her what has become of Matahachi. The Hon'iden family are jerks. He seems to have a way with the ladies, even if he doesn't seem interested. Both Oko and her daughter Akemi seem to like Takezo more than Matahachi, and when pressed by Matahachi's mother, Otsu, Matahachi's fiancée, couldn't agree with her that she hates Takezo.
The one thing he does know is how to fight. With either a sword or a stick and some rocks, no one who tries to kill Takezo seems to come out of it alive. He takes on practically the whole Tsujikage gang alone, as Matahachi proves to be more of a lover than a fighter. There are several pages that run black from all the blood and severed body parts. This is very much not a story for the faint of heart. Inoue has no problems with showing every graphic detail. I don't really have a problem with the realism, it just doesn't appeal to me personally. I read to escape the real world, not to relive it.
One thing I did enjoy was Takezo's character design. He is very much the brash older teen with wild hair, and piercing eyes that make one think twice about taking him on. I really didn't care for the look of most of the other characters, but their designs matched their personalities, which should tell you how I felt about a lot of them. Matahachi lacks the look of confidence he thinks he has after making his first kill, and Granny Hon'iden is as ugly on the inside as the outside. All of the characters are drawn realistically, but still seem just off enough to not feel real.
For a historical drama, Vagabond hits all the right marks. It's gritty and realistic look does make it feel like the 15th Century Japan. The action hits hard and fast, and the drama feels as real as it looks. But in the end, it's just not a series that interests me. while I like Takezo, the rest of the characters and the story didn't engage me. This is how I felt when I first read the preview chapter, and now having read a whole volume, I can say nothing much has changed. If you enjoy this kind of story though, I would highly recommend it.