Taichi Hiraga-Keaton, the son of a Japanese zoologist and a noble English woman, is an insurance investigator known for his successful and unorthodox methods of investigation. Educated in archaeology and a former member of the SAS, Master Keaton uses his knowledge and combat training to uncover buried secrets, thwart would-be villains, and pursue the truth… When a life insurance policy worth one million pounds takes Master Keaton to the Dodecanese islands of Greece, what will he discover amidst his scuffles with bloodthirsty thieves and assassins?
Master Keaton Volume 1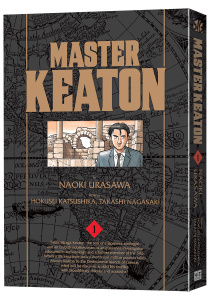 By Naoki Urasawa; Story by Hokusei Katsushika, Takashi Nagasaki
Publisher: Viz Medial
Age Rating: 16+
Genre: Drama
Price: $19.99
Rating:





Master Keaton is one of those licenses that was always talked about but never dreamed it would become reality. Or maybe, dreaming was all fans of the series could do. A 24 episode anime was released here by Pioneer/Geneon back in 2003, but that was as much of the story as fans could hope to get. I was so thrilled when Viz Media announced it last year. It is one of the few titles I will pre-order, sight unseen.
I almost had my doubts at first. Urasawa has been hit and miss with me. I loved Pluto, but didn't care for Monster or the latter half of 20th Century Boys. But I am happy to say I was not disappointed with Master Keaton. What initially drew me to the series was the title character, Taichi Hiraga-Keaton. He is both an archaeologist and an insurance investigator, combining to things I love; archaeology and mysteries. I really liked Keaton as the absent-minded professor type. He is easy-going, and a bit of a dreamer, but behind this non-threatening facade, is a keen eye and a sharp wit. Even though it is a convenient plot point, I love his quirk of taking seemingly random things that end up helping him get through his current adventure.
Most of the chapters are stand alone cases, with a few multi-chapter stories. Sometimes Keaton gets a case due to his knowledge of archaeology, but in almost every case his skills as a former S.A.S. member and survival skills trainer come into play. Both these skills mesh nicely in the two-part story "Hot Sands, Black and White" and "Qehriman of the Desert." Not every chapter is a case. This volume also introduces Keaton's daughter Yuriko and his father. These stories are more about his relationships with his family. He helps out Yuriko when she has problems with a teacher at school, and a girl who thinks his father is also her father. These chapters were just as enjoyable as the more action-oriented chapters. They give more insight to Keaton's character. "Journey With a Lady" was another wonderful chapter where Keaton's patience is tested, and ultimately rewarded.
This series is from 16 years ago, but the art is still very Urasawa. The characters are recognizable as his work, and match well with the story. Urasawa's more technical skills are put to the test as he has to draw, old ruins and life-like statues to fit the archaeological side of the story, and he does it well. The backgrounds are very detailed too, giving the feeling of the place Keaton is in, whether it is England, Italy or the Taklamakan Desert.
Master Keaton is a great series. The stories are well written, and very engaging. I didn't want to put it down once I started. The investigations are readily solved, with all the piece set in place before hand. There is plenty of action and mystery to keep fans of both happy. I certainly am. I highly recommend it.